One of the best meals I had on vacation recently was from a food truck in Hanalei, on Kauai.  Normally I wouldn't opt for a meatless veggie wrap, but with a little sign that said their beef was sold out for the day, I decided to try it, since I had already stood in line! It was a super soft wrap filled with organic local greens and veggies, featuring crispy crunchy fried chickpeas and drenched in a tangy chimichurri vinaigrette.   This at-home version was just as good to me, so much so that I prepped the ingredients and ate it every day for lunch for several days. If you think veggie wraps are boring, this one will change your mind!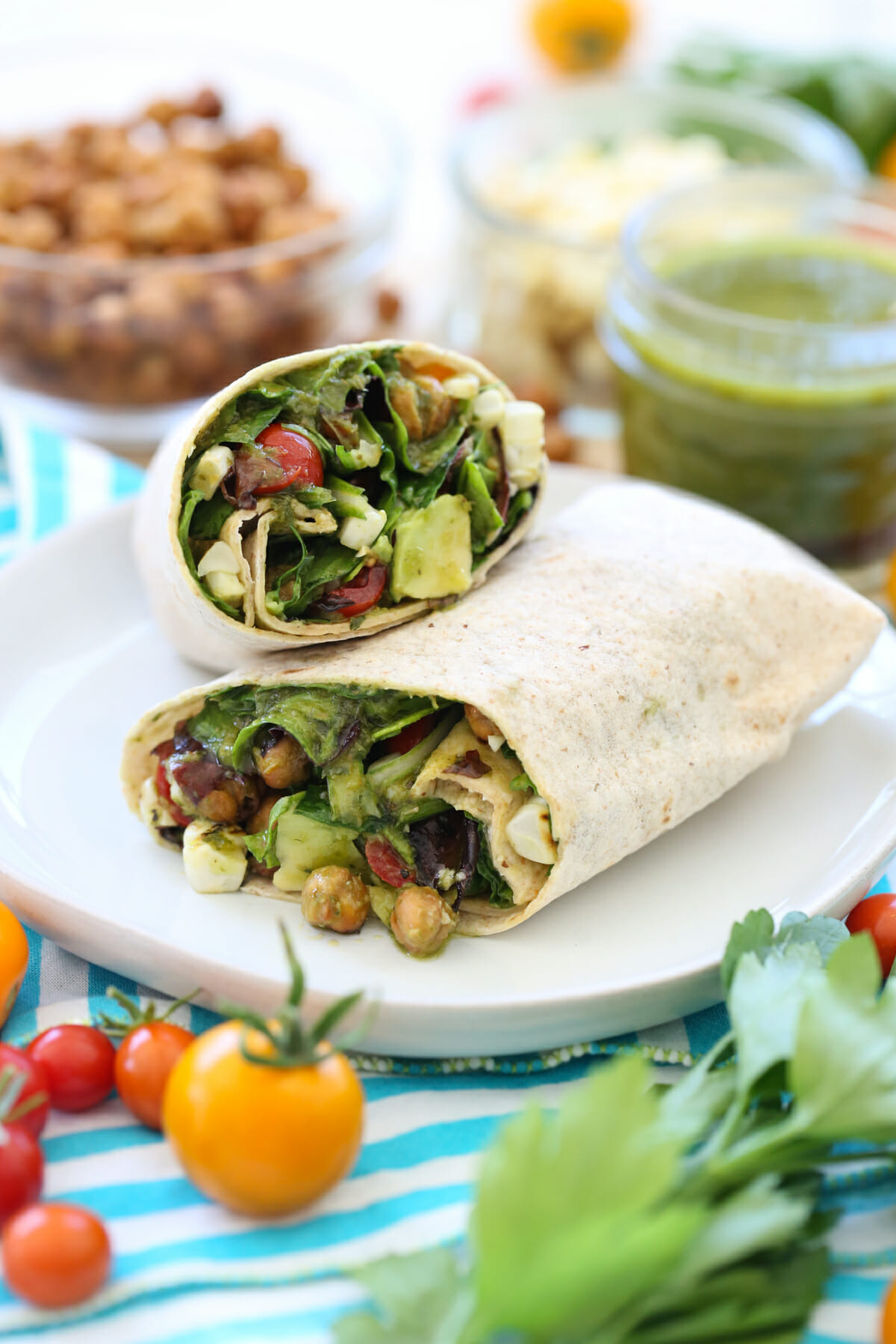 Ingredient Notes
Tortillas – Look for the largest size tortilla you can find, often labeled as "wrap" size.  I've found you need them bigger than you think you do to wrap up all this veggie goodness.  Also look for a thin, stretchy tortilla.  I have really been loving this brand, which I've found at my local Kroger, and Walmart stores.
Greens – Use any greens mix you like.  I like a 50/50 spring mix, you could do all spinach, arugula, or whatever combination you like.
Corn – This is a great use for leftover grilled corn, if you happen to plan that into your dinner plans!  Sometimes I grill corn on the cob for dinner, just to have the leftovers for this recipe.  If not, you can put a few shucked corn cobs in the air fryer for about 7 minutes at 425, or simmer in a pot on the stove. I have also carefully placed the cob directly on my gas stove top and used the flame to char.  You'll want to carefully watch and turn if you use that method!
Chickpeas – Also known as Garbanzo Beans, are an inexpensive canned ingredient. They offer substance, flavor, and texture to this meatless meal!  I have a recipe for Air Fryer Chickpeas here, and oven roasted chickpeas, here.
Instructions
There are lots of little steps to this recipe, which might seem annoying at first glance. If you want to enjoy this veggie wrap for a single meal, maybe for lunch a few days in a row like me, the great thing is that after you make it the first time, you can prep enough to have ingredients-at-the-ready for the rest of the week.  For example the dressing can be stored in the fridge and you can cook several corn cobs, etc.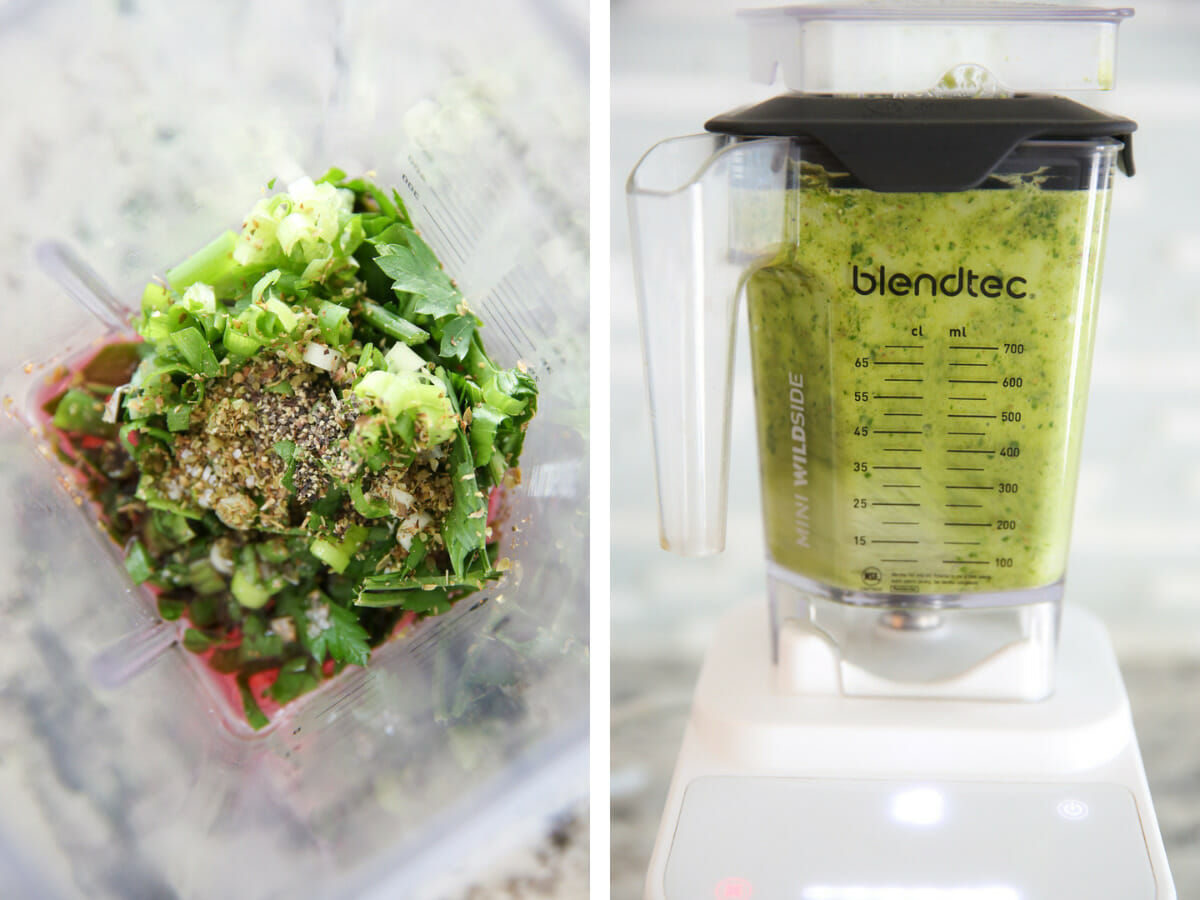 Prepare dressing by blending all ingredients except oil in the blender and then adding the oil in a steady stream.  Store in a mason jar in the fridge.  This dressing gets better with time so feel free to make it ahead!
I like to combine all my wrap ingredients in a bowl before wrapping them up because then everything gets well coated in the dressing.
Wrap up in a tortilla/wrap and secure ends.  It's obviously great as a salad, too!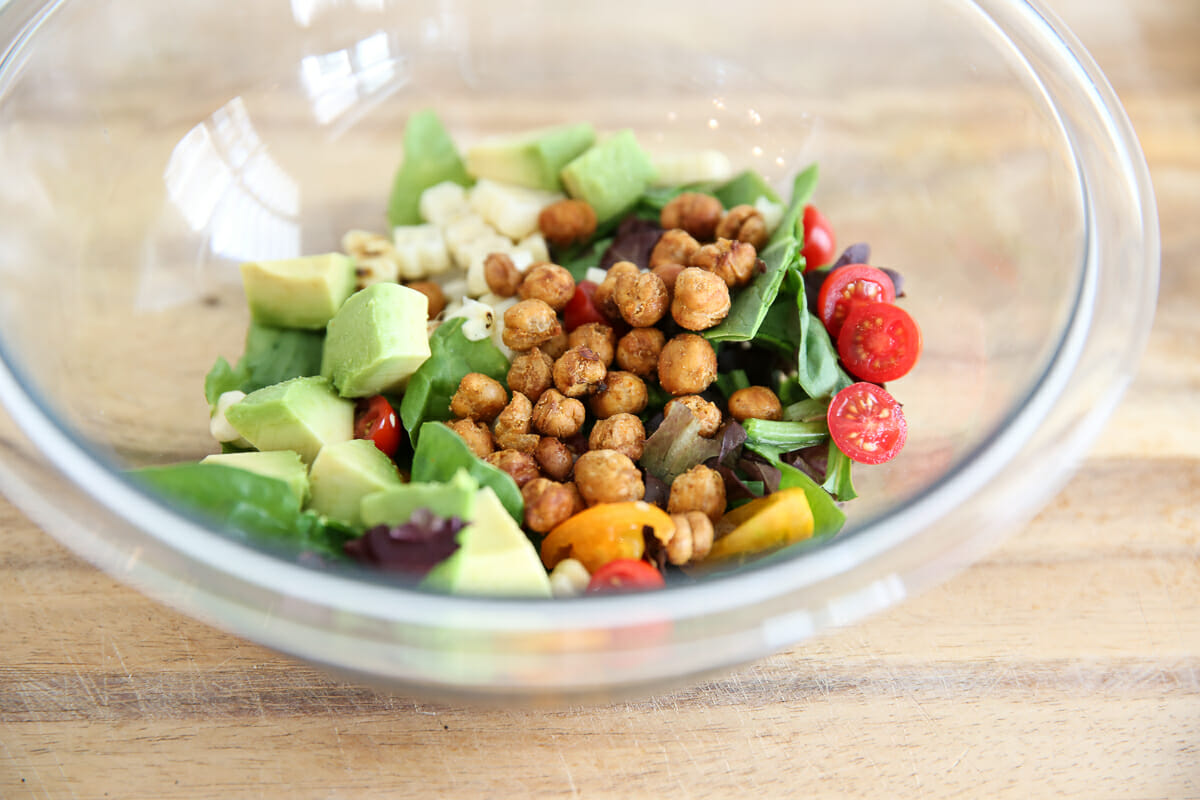 Tip: Look for a wrap that's larger than you think you want!  You'll need it to wrap the ends in. There are many specifically labeled as "wraps".
Recommendation: I've been getting this brand recently and they are so soft and delicious! Don't be thrown off by the keto label. That's just a marketing trick, and another word for high fiber!  I love that these are packed with fiber, and they are soft and stretchy.  That's what I look for in a good wrap.  I've seen them at almost all grocery stores lately!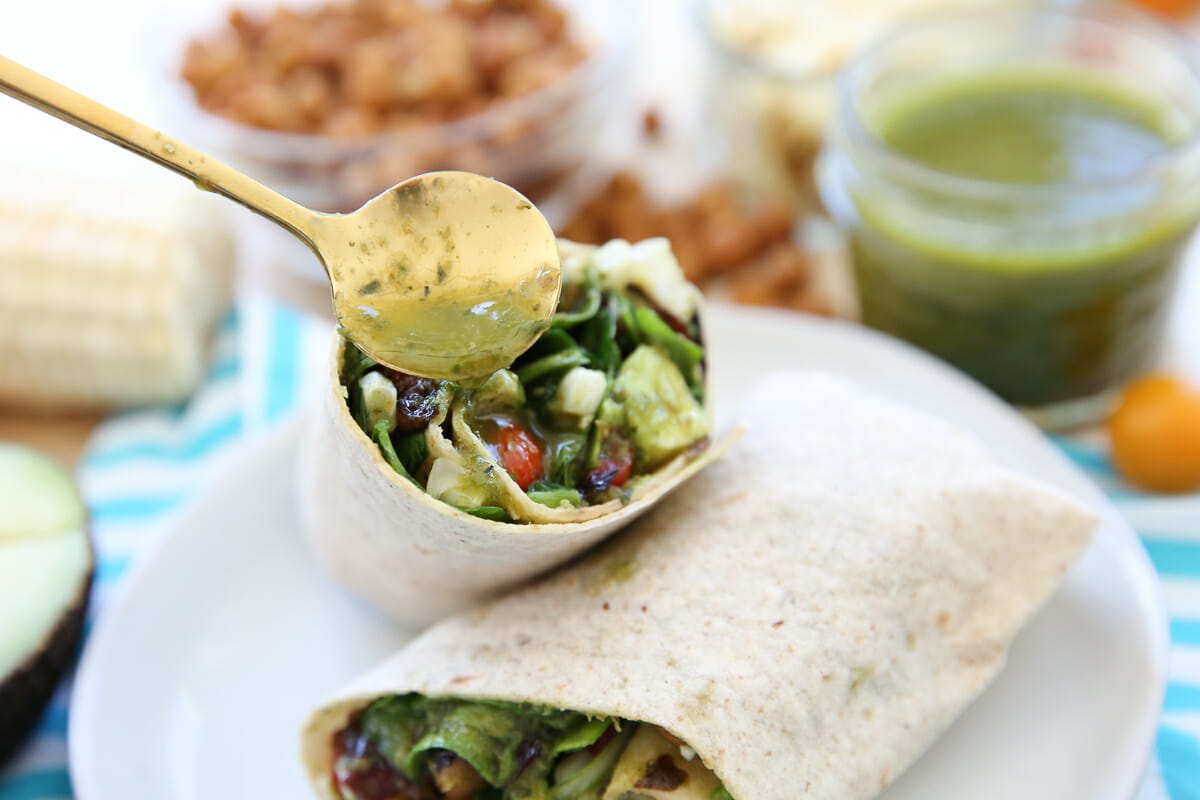 You might want to drizzle a little extra dressing in there after you cut it- I love this dressing and always want extra!  If you try this out, let me know what you think!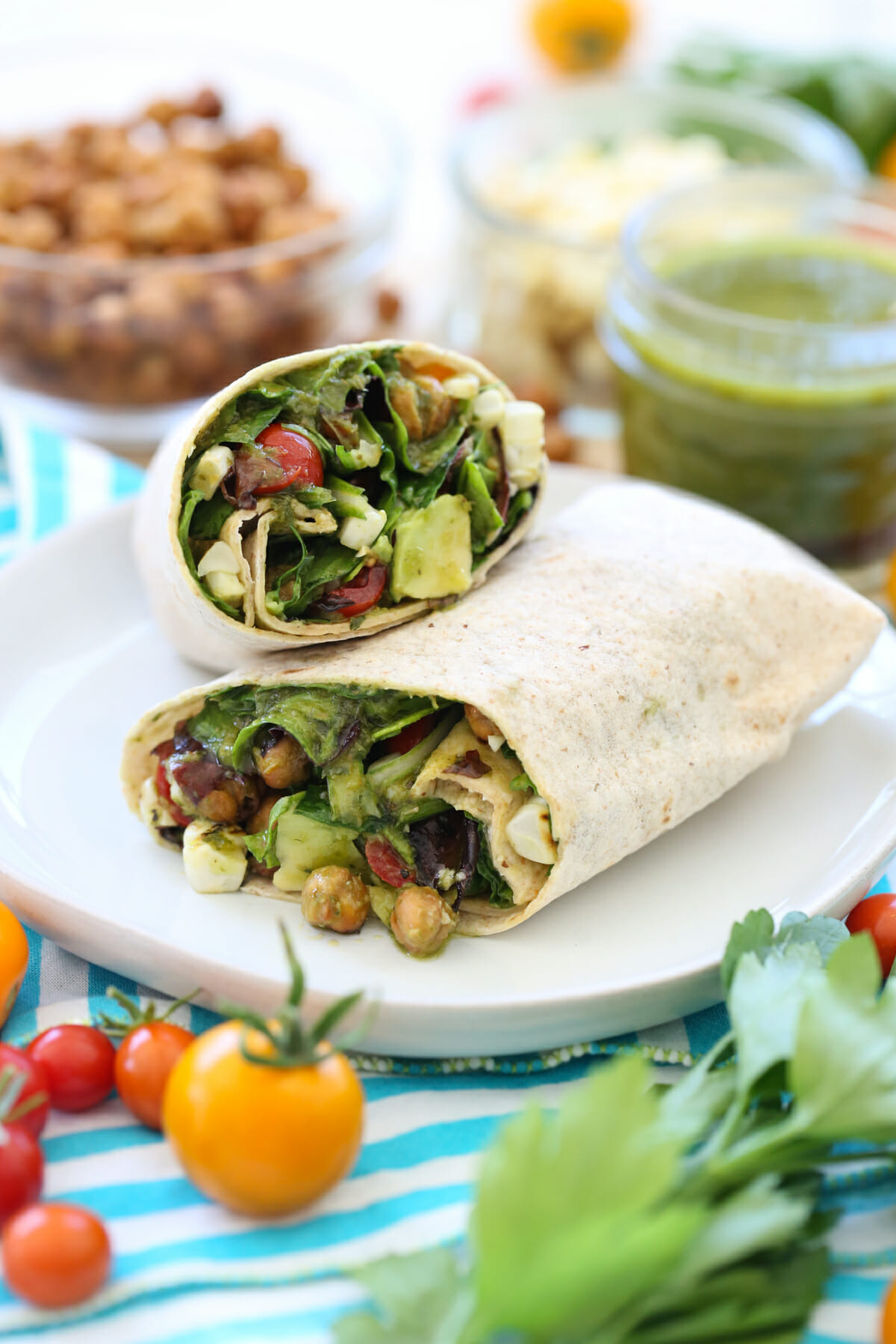 Print
---
Description
A flavor-packed meatless wrap with veggies and a chimichurri vinaigrette!   The vinaigrette will be enough for 6-8 wraps.  Ingredients for wrap contents are shown for a single serving- obviously it's flexible.  Adjust to your liking and make as many as you like at once!
---
1 large "wrap" sized soft tortilla
1 1/2– 2 cups greens, roughly chopped
2 tablespoons chopped tomato
2 tablespoons charred corn
2 tablespoons diced avocado
2 tablespoons crispy chickpeas (Air Fryer Method, Oven Method either flavor profile is fine!)
Chimichurri Vinaigrette

1/4 c red wine vinegar
1/2 c roughly chopped parsley
1 large clove garlic, minced
3/4 teaspoon dry oregano
2–3 tablespoons sliced green onion, about 1–2 green onions
3/4 teaspoon salt
1/8 teaspoon pepper
pinch of chili flakes, optional

3/4 c oil  (I like avocado oil, could also use olive oil)

---
For the vinaigrette, place vinegar, parsley, garlic, oregano, green onion, salt, and pepper in a small blender or food processor jar.  While running at low speed, add oil in a slow drizzle until combined.  Place dressing in an airtight jar and set aside.
Combine greens and all other vegetables in a small mixing bowl, drizzle with desired amount of dressing (2-ish tablespoons) and toss to coat.  Transfer mixture to the center of the wrap, and roll, closing both ends.
---