Salmon season is in full swing here in the Pacific Northwest, and for those special occasions where I manage to get a whole one in the house instead of the big fillets we are used to, we love doing Whole Grilled Salmon in Foil. It is an easy way to prepare this special fish, and ensures that the salmon stays moist, tender, and the flavor is infused through the whole fish.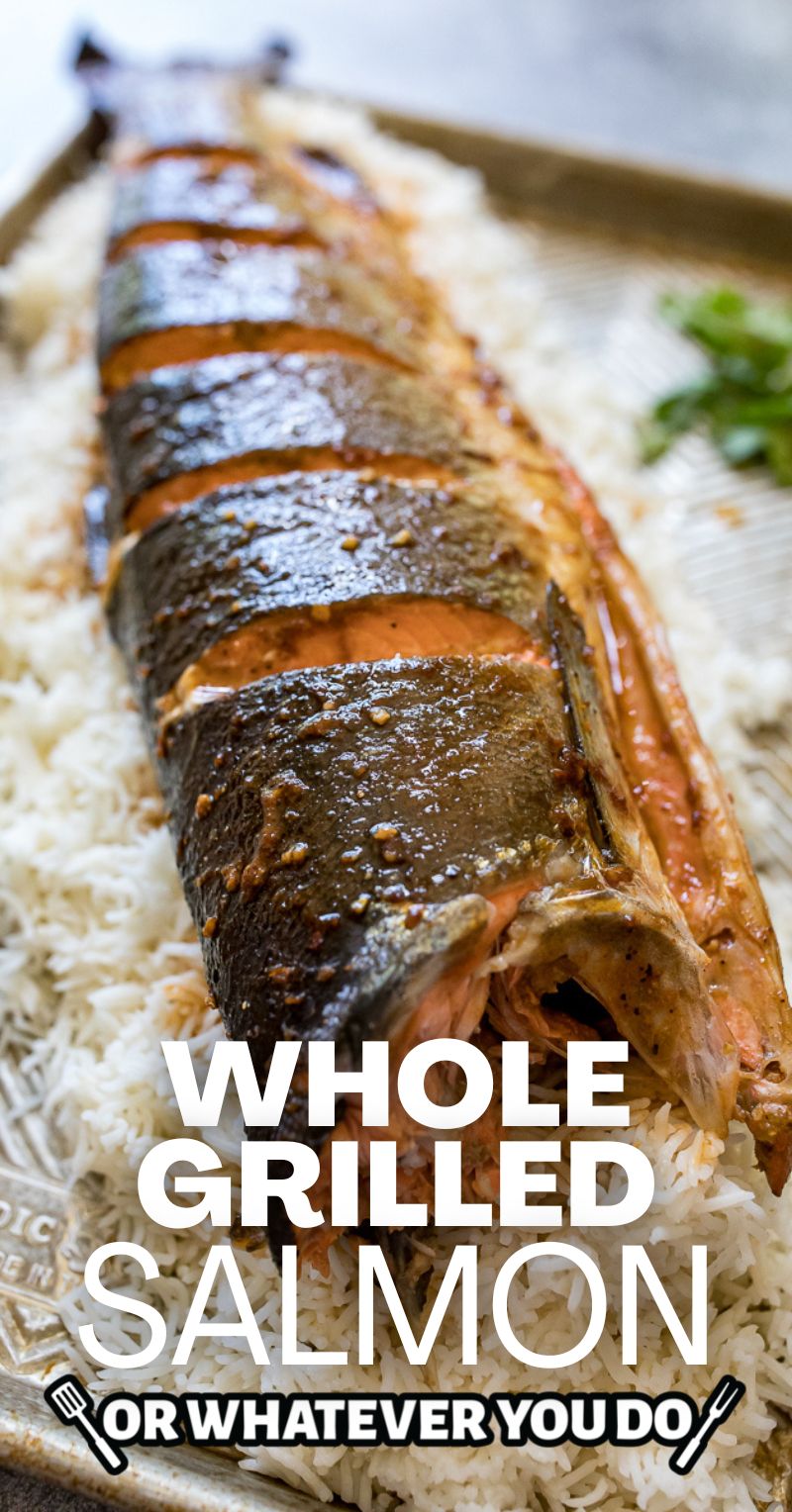 Whole Grilled Salmon in Foil
Making fresh, line-caught salmon is always a special occasion, but if you want a show-stopping presentation in addition to a delicious meal, cooking it whole in foil is the way to go. From the easy prep to the big reveal at the end, you and your family and guests are going to love this dish.
We seasoned this with a mix of salt, lemon pepper, garlic, and ginger. You can also use that Maui Wowee seasoning from Spiceology if you have some. It is perfect for this kind of dish. To top it off, we used some Bachan's Japanese BBQ Sauce, which has exploded in popularity over the last couple of years. It is available at most major grocery stores, on Amazon, and it is delicious. It is very similar in flavor to a teriyaki sauce, so if you don't have any Bachan's or can't find it, you can always pick up a teriyaki sauce at the store.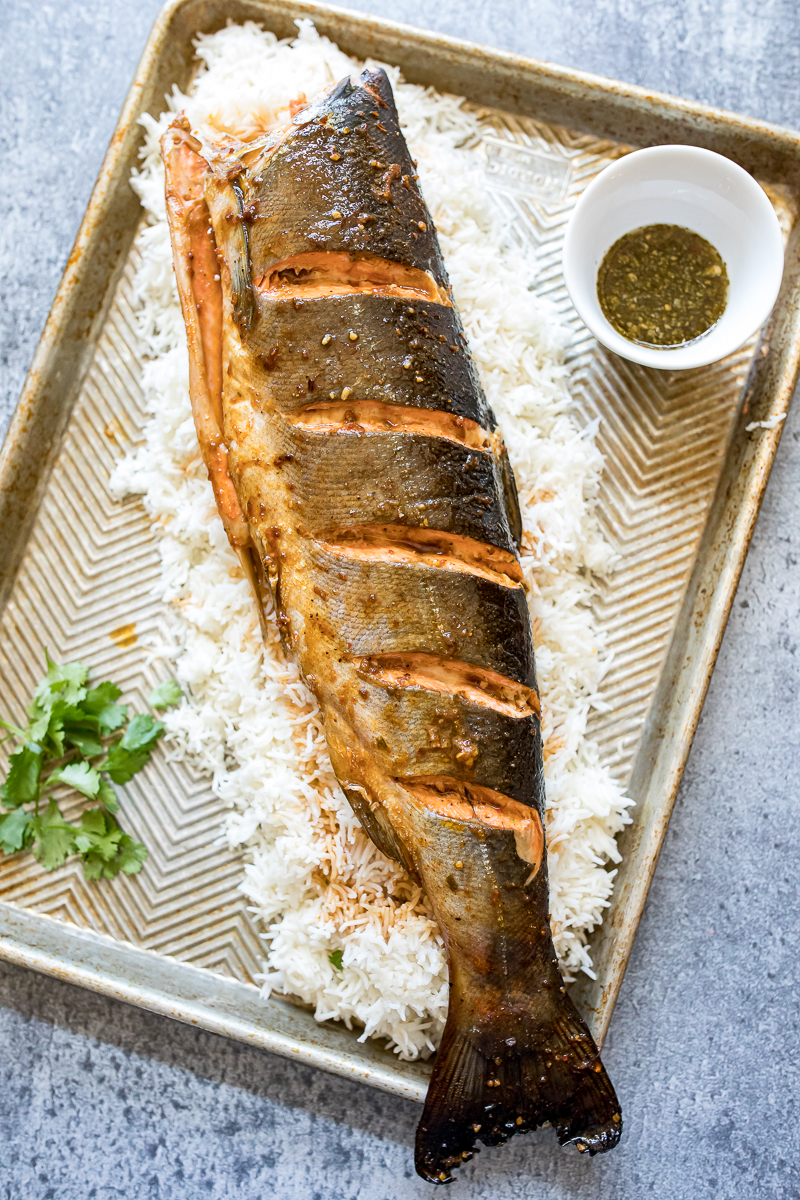 Whole Grilled Salmon shopping list
Wondering if you have to hit the store? Here's the list of items you'll need to make this recipe. For specific amounts, please refer to the printable recipe card at the bottom of the post.
whole salmon
kosher salt
brown sugar
lemon pepper
granulated garlic
ground ginger
Bachan Japanese BBQ Sauce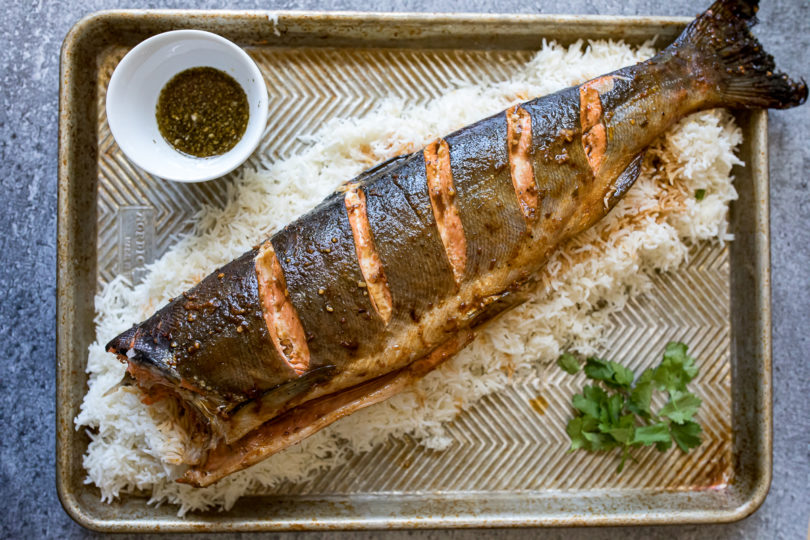 How to make Whole Grilled Salmon in
This is just the overview so you can see what you're actually getting into here. When you are cooking, you'll want to use the full recipe at the bottom of the page.
Preheat
Fire that grill up to 400°.
Prep
Make some slashes on the top of the salmon. Season the salmon with the dry rub mixture (inside and out). Drizzle with Bachan's. Wrap tightly in a double layer of foil.
Grill
Put the wrapped fish on the grill. Cook for 15 minutes. Flip. Cook another 15 minutes. Take the temp of the fish partway through the cook. The minimum internal temp should be 130°F. Always cook to temp. Times given here are only an estimate, and how long it actually takes depends entirely on your grill, your wrap, and your fish.
Rest
Rest the fish after removing it from the grill for at least 10-15 minutes.
Enjoy
Open the foil and enjoy. Watch out for bones! Serve with steamed rice and vegetables and extra Bachan's drizzled over the fish.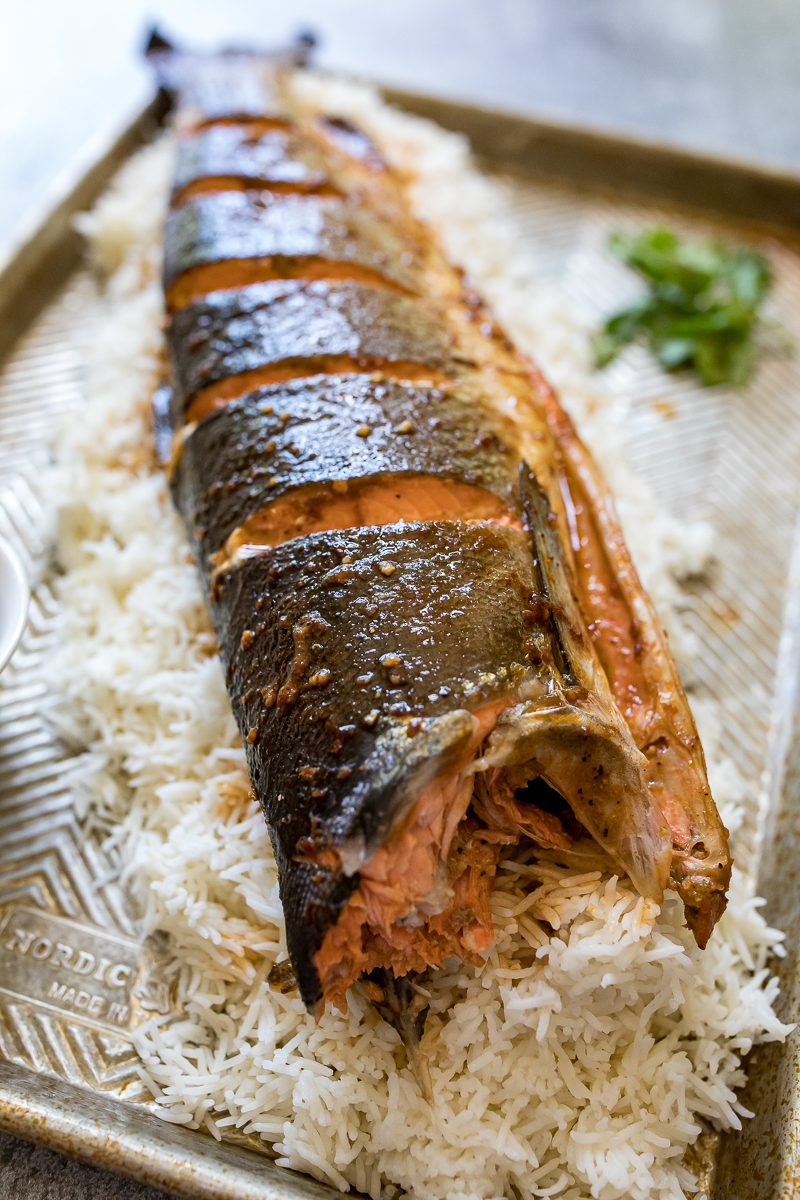 Whole Grilled Salmon FAQ
How do you store leftovers?
Fish is best eaten right after you cook it. Leftovers aren't ideal. If you can't manage to finish an entire salmon, store it in an airtight container in the fridge for up to 2-3 days.
What's the best way to reheat leftovers?
I would not recommend reheating these leftovers. They are better served cold in a salad, or folded gently into a hot pasta sauce or soup to reheat slowly. You could also use leftovers to make these delicious salmon dumplings by Girl Carnivore!
Are there any substitutions for the Bachan's Japanese BBQ Sauce?
Yes! You can use any teriyaki sauce in place of the Bachan's, but I highly recommend picking some up sometime! It is delicious!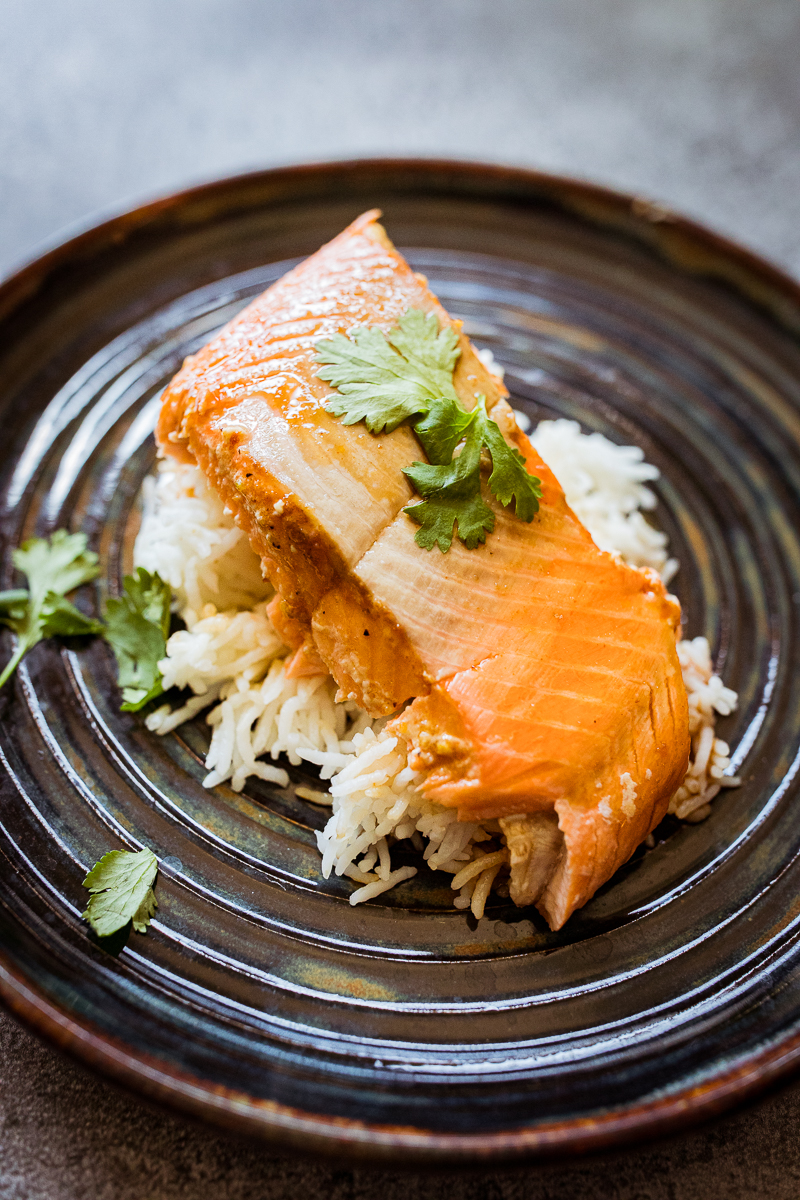 More great salmon recipes to enjoy!
More recipes to love
Try a drink too!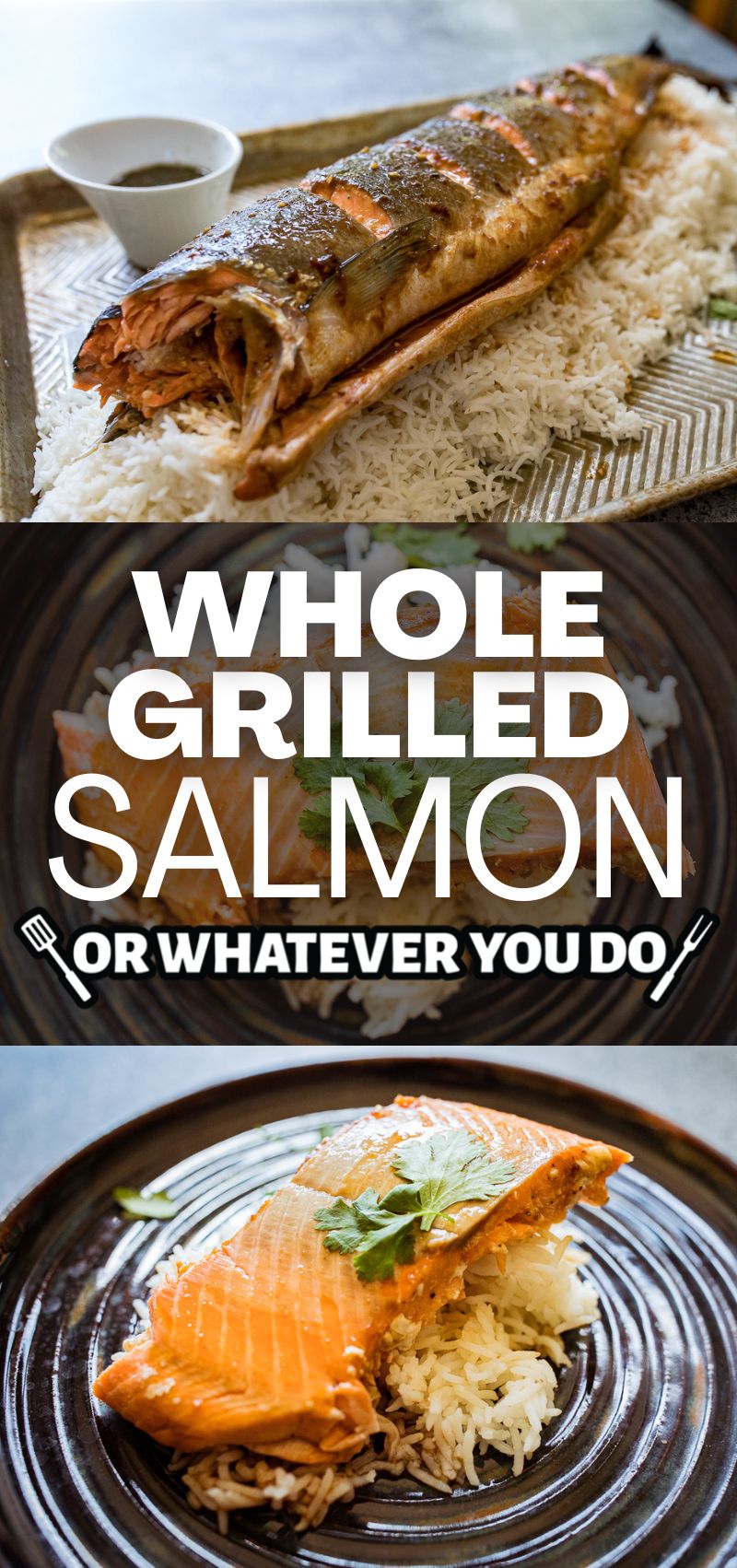 Prep Time
15 minutes
Cook Time
30 minutes
Total Time
45 minutes
Ingredients
Dry Rub
1 tablespoon kosher salt
1 tablespoon brown sugar
2 teaspoons lemon pepper
1/2 teaspoon granulated garlic
1/4 teaspoon ground ginger
Sauce
1/2 cup Bachan's Japanese BBQ Sauce (or sub in your favorite teriyaki sauce)
Instructions
Preheat your grill to 400°. Combine the dry rub ingredients in a small bowl until everything is evenly distributed.
Use a cleaned, gutted, whole salmon with the head removed. Make 4-5 1/2″ deep slashes across the top of the skin.
Put the seasoning all over the salmon, including on the inside of the cavity. Drizzle with Bachan's Japanese BBQ Sauce.
Using a double-layer of heavy-duty foil, completely wrap the salmon in foil.
Place the wrapped salmon on the preheated grill. Cook for 15 minutes, flip, and cook another 10-15 minutes, until the internal temperature is 130°F using an instant read thermometer, poked right through the foil and into the salmon. You can also use a wifi thermometer to keep an eye on this throughout the cook.
Remove from the grill and let sit for 5 minutes before unwrapping.
Serve with additional Bachan's for people to drizzle. Watch for bones.
Recommended Products
As an Amazon Associate and member of other affiliate programs, I earn from qualifying purchases.
Nutrition Information:
Yield:
4
Serving Size:
1
Amount Per Serving:
Calories: 192Total Fat: 7gSaturated Fat: 1gTrans Fat: 0gUnsaturated Fat: 5gCholesterol: 36mgSodium: 1791mgCarbohydrates: 18gFiber: 1gSugar: 14gProtein: 13g
Nutrition data provided here is only an estimate.