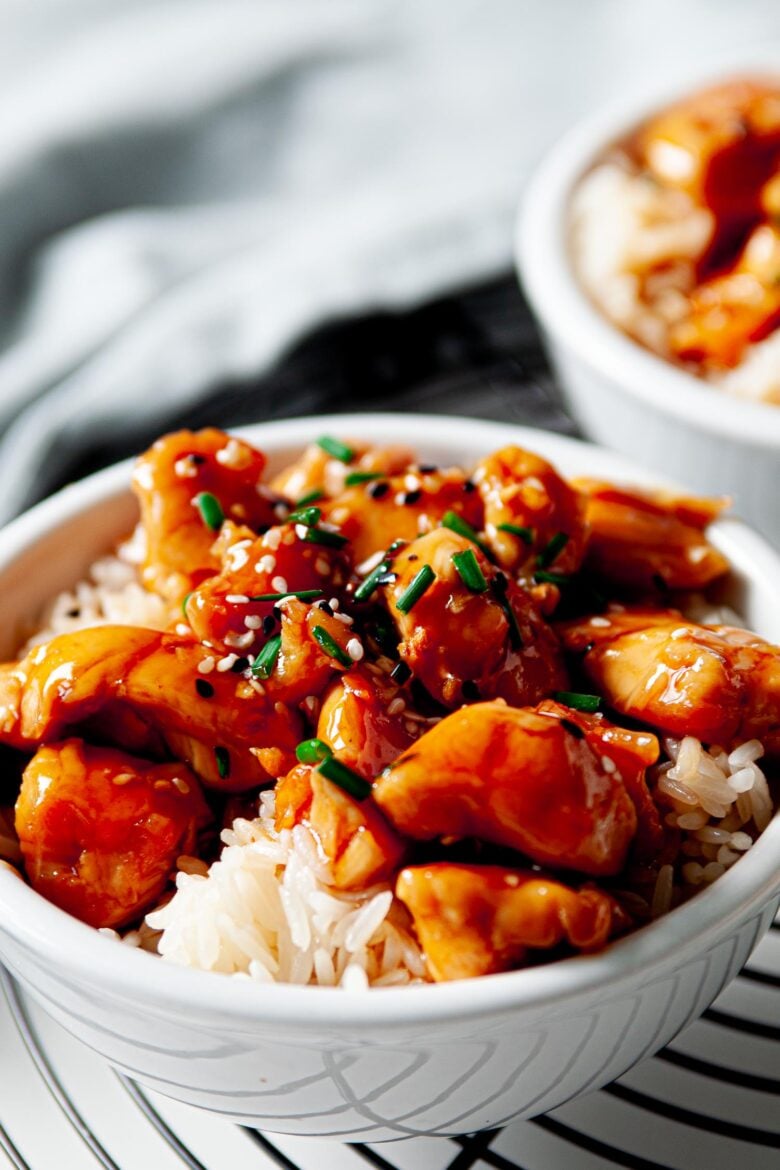 What Is Teriyaki Chicken? 
There are few flavors we love more than teriyaki. Whether it's paired with salmon, steak, or meatloaf, we're always fans. However, when it comes to satisfying dinners, this stovetop teriyaki chicken just can't be beat! If you're unfamiliar, teriyaki is a type of Japanese cooking technique in which foods are broiled, grilled, or baked with a glaze made up of a combination of simple pantry ingredients like teriyaki sauce and sugar. It is easily recognized by its sweet and savory profile which is marked with a hint of garlic or ginger for just a little tang. 
Basic Homemade Teriyaki Chicken Ingredients
There are many variations of teriyaki, but for this recipe we kept the ingredient list short and sweet. Here's what you'll need: 
To make the sauce, we start with a store-bought Teriyaki Sauce that pairs incredibly well with literally everything. 
Cornstarch is dissolved with water to create the ultimate sticky glaze.
White sugar and ginger powder help make everything nice especially when mixed with freshly squeezed orange juice. 
High-quality boneless skinless chicken thighs make for the most tender, flavorful chicken teriyaki you'll ever taste. 
A dash of olive oil helps fry up your chicken for a perfectly juicy center and an irresistible crispy exterior.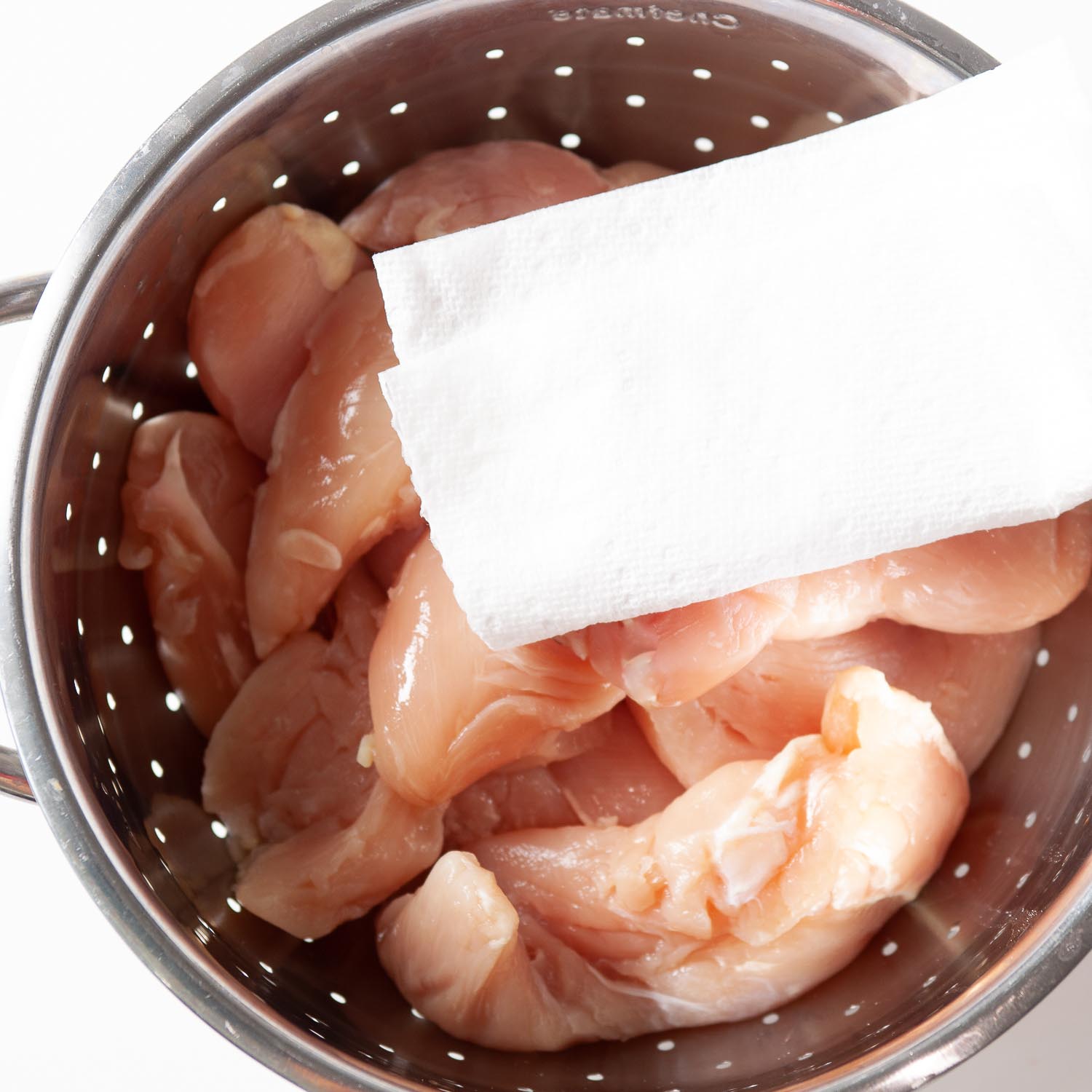 Pro Tips for Stovetop Chicken Teriyaki 
It might look fancy, but this chicken is super easy to make, especially when you follow our tips below. 
Slice the Chicken into Even Pieces. This allows for quick, even cooking. 
Pat the It Dry. Be sure to thoroughly pat the chicken pieces with a paper towel to remove any excess moisture and ensure that the chicken browns in the pan. 
Don't Overcook. Teriyaki is super quick to make! Be sure to keep a close eye on the pan, and remove the chicken as soon as it is no longer pink. Then, use a meat thermometer to check that it has reached an internal temperature of 165 degrees Fahrenheit. 
Use Fresh Orange Juice. The pre-made stuff from the store has too much sugar and preservatives to create the fresh orange taste we want to achieve.
Garnish. Add a boost of texture, and finish your dish with a sprinkle of scallions and sesame seeds for a beautiful presentation.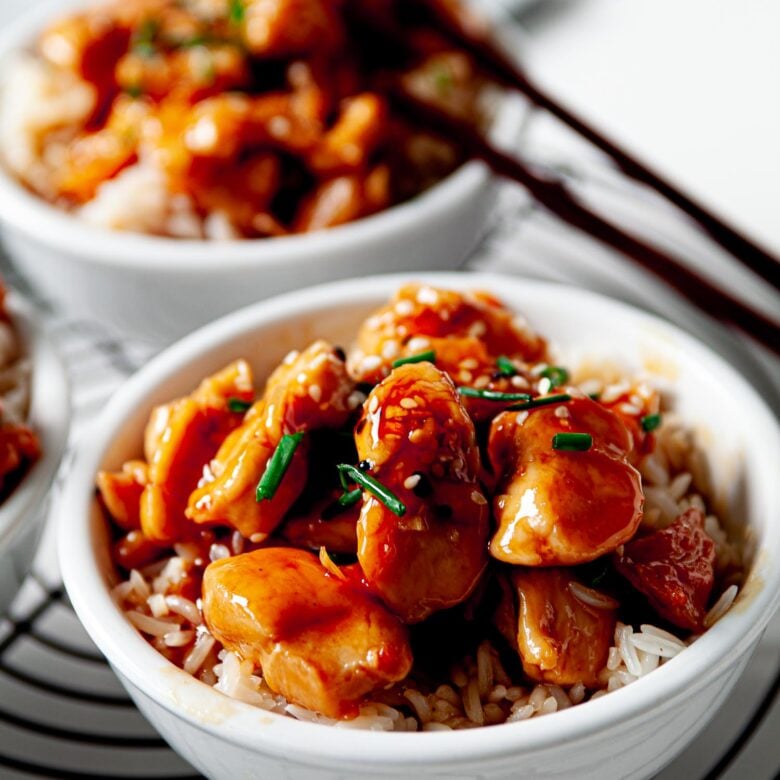 Common Questions About Homemade Teriyaki Chicken 
Do I have to use chicken thighs?
We highly recommend using thigh meat as it tends to remain tender even if slightly overcooked. However, if preferred, you can use boneless, skinless chicken breasts instead. Just be careful not to overcook! 
How long should I marinate my chicken? 
For this stovetop teriyaki chicken recipe, you don't have to marinate the chicken at all, making it super quick to whip up. 
Can I make this recipe ahead of time? 
Yes, great for meal prep, leftovers can be kept in an airtight container for up to a week in the fridge. 
Does chicken teriyaki freeze well? 
Homemade teriyaki chicken is great to whip up in big batches and keep on hand for freezer-friendly meals that can be made in a pinch. Store it in the freezer for up to three months. 
---
More to Cook and Eat
---
---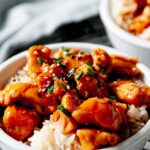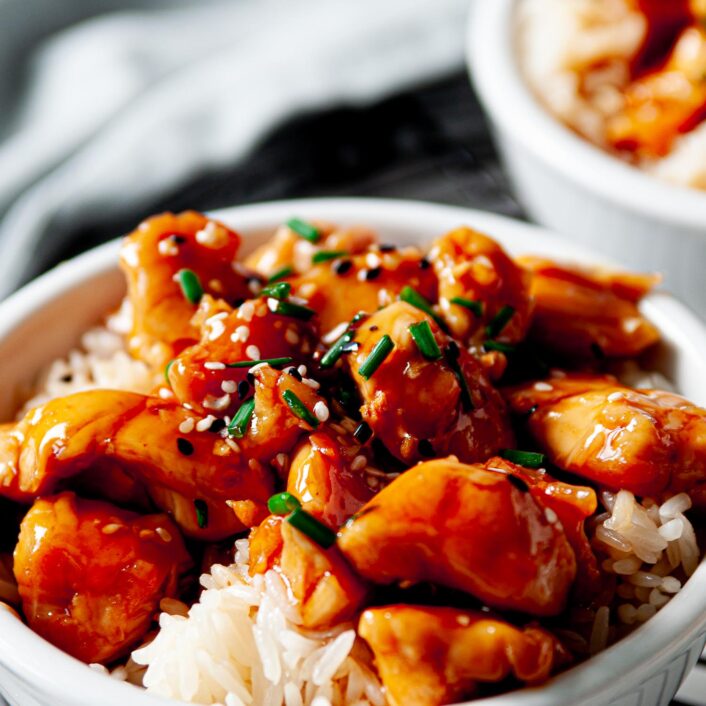 Teriyaki Chicken (Stovetop Method)
Stovetop teriyaki chicken is tender, out-of-this-world delicious, and so easy to make. Serve it alongside rice and veggies for a filling meal that's even tastier than takeout.
Servings: 6
For the Sauce:
2

TB

cornstarch,

stirred/fully dissolved in 2 TB water

1

cup

basic Teriyaki Sauce

1

cup

water

⅔ – 1

cup

white sugar

1

tsp

ginger powder
Juice from 3 wedges of a fresh orange,

do not use store bought OJ
For the Chicken:
4

boneless

, skinless chicken thighs*

2

TB

olive oil or canola oil
Optional Garnish: thinly sliced scallions, toasted sesame seeds
Thoroughly dry each piece of chicken with paper towels (this step is important to ensure chicken browns in the pan, rather than steams.) Cut chicken into 1/2-inch pieces.

In a large pan, heat oil on medium high until very hot. Add chicken and arrange in an even layer in pan. Let cook undisturbed for 2 minutes, or until bottom of chicken pieces are browned. Stir and cook just until chicken is no longer pink in center, about 2 more minutes. Remove from heat.

Spoon desired amount of sauce over chicken and stir to coat. Garnish with scallions and sesame seeds, if desired. Serve with remaining sauce.
We highly recommend using thigh meat, as it tends to remain tender even when accidentally overcooked. However, you may also use 3 boneless, skinless chicken breasts (take care not to overcook chicken breast meat.)
To keep this dish gluten-free, be sure your teriyaki sauce is certified gluten-free. 
If you enjoyed this recipe, please come back and give it a rating ♡
Serving: 1g | Calories: 399kcal | Carbohydrates: 65g | Protein: 17g | Fat: 8g | Saturated Fat: 1g | Polyunsaturated Fat: 1g | Monounsaturated Fat: 4g | Trans Fat: 0.01g | Cholesterol: 72mg | Sodium: 500mg | Potassium: 298mg | Fiber: 0.1g | Sugar: 62g | Vitamin A: 18IU | Vitamin C: 0.002mg | Calcium: 21mg | Iron: 2mg
Did you make this?
Leave a comment below and tag @chewoutloud on Instagram