This Pea Salad recipe is a quick, easy, fresh, make-ahead friendly year-round side smothered in bright, light Lemon Parmesan Dressing!
This Pea Salad is light, bright, refreshing and a delicious addition to any meal, potluck or holiday.  It boasts the winning trifecta of sweet peas, crispy, salty bacon and chunks of Gouda cheese along with juicy tomatoes and zippy red onions, all doused in showstopping tangy, creamy Lemon Parmesan Dressing.  It's one of the most pleasing flavor-texture combos; so simple, so refreshing, so perfect. This pea salad recipe can be thrown together in minutes, or made days in advance, is easy to double/triple, and goes with practically everything! We love serving this side with grilled chicken, cedar plank salmon or marinated flank steak in the summer and garlic butter pork tenderloin or oven fried chicken in the winter.
Salads are the perfect side for every occasion! Some of our favorites include: Grape Salad, Garden Salad, Caesar Salad, Apple Salad, Strawberry Spinach Salad, Grilled Corn Salad, Light Coleslaw and Outback Copycat Wedge Salad, and Southwest Salad.
HOW TO MAKE Pea Salad REcipe VIDEo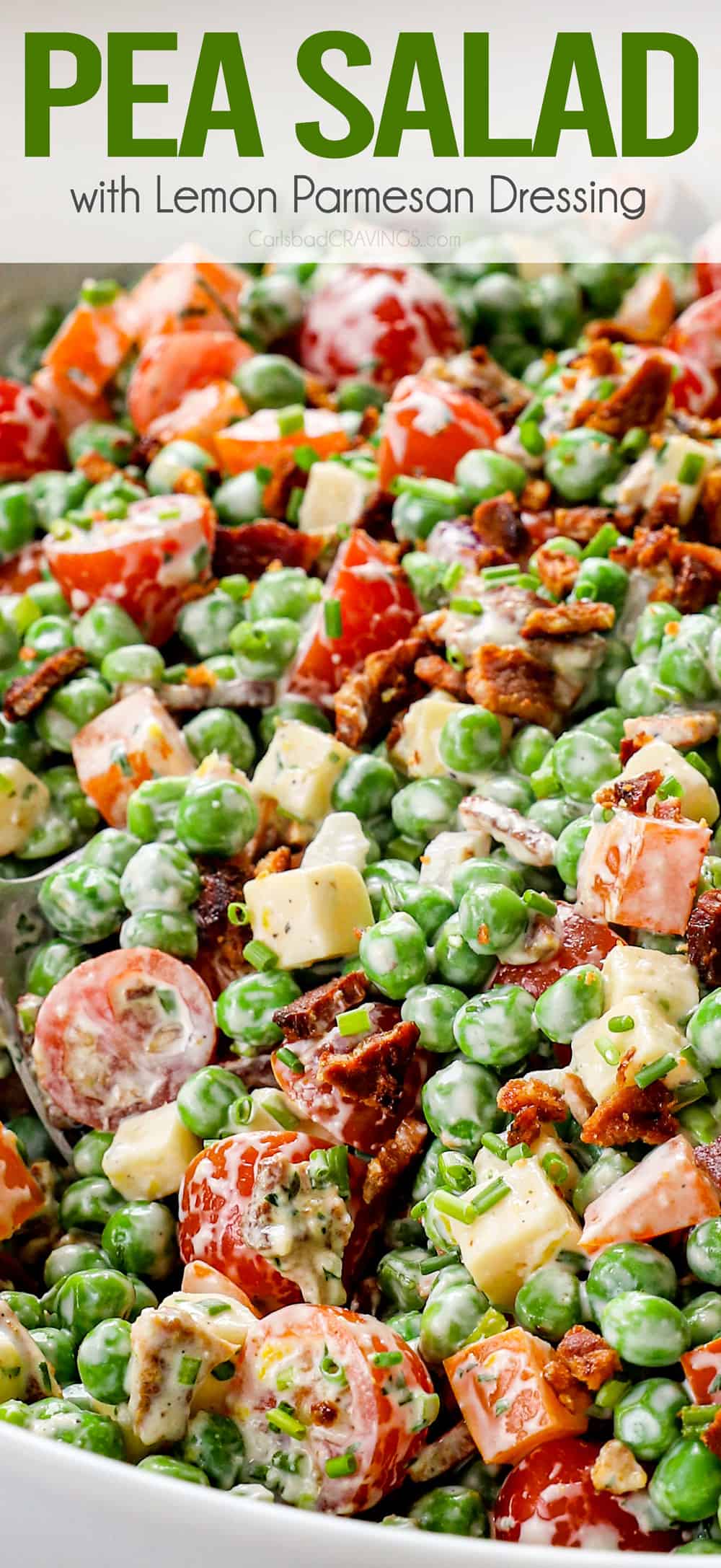 Ingredients in Pea Salad
The base of this creamy pea salad requires just six basic ingredients. The dressing is a simple stir-together number that takes all of a few minutes to prepare. The end result is an easy but flavor-packed pea salad that pairs well with any entrée or side dish! Here's everything you'll need to make the pea salad: 
For the Pea Salad: 
For the Dressing: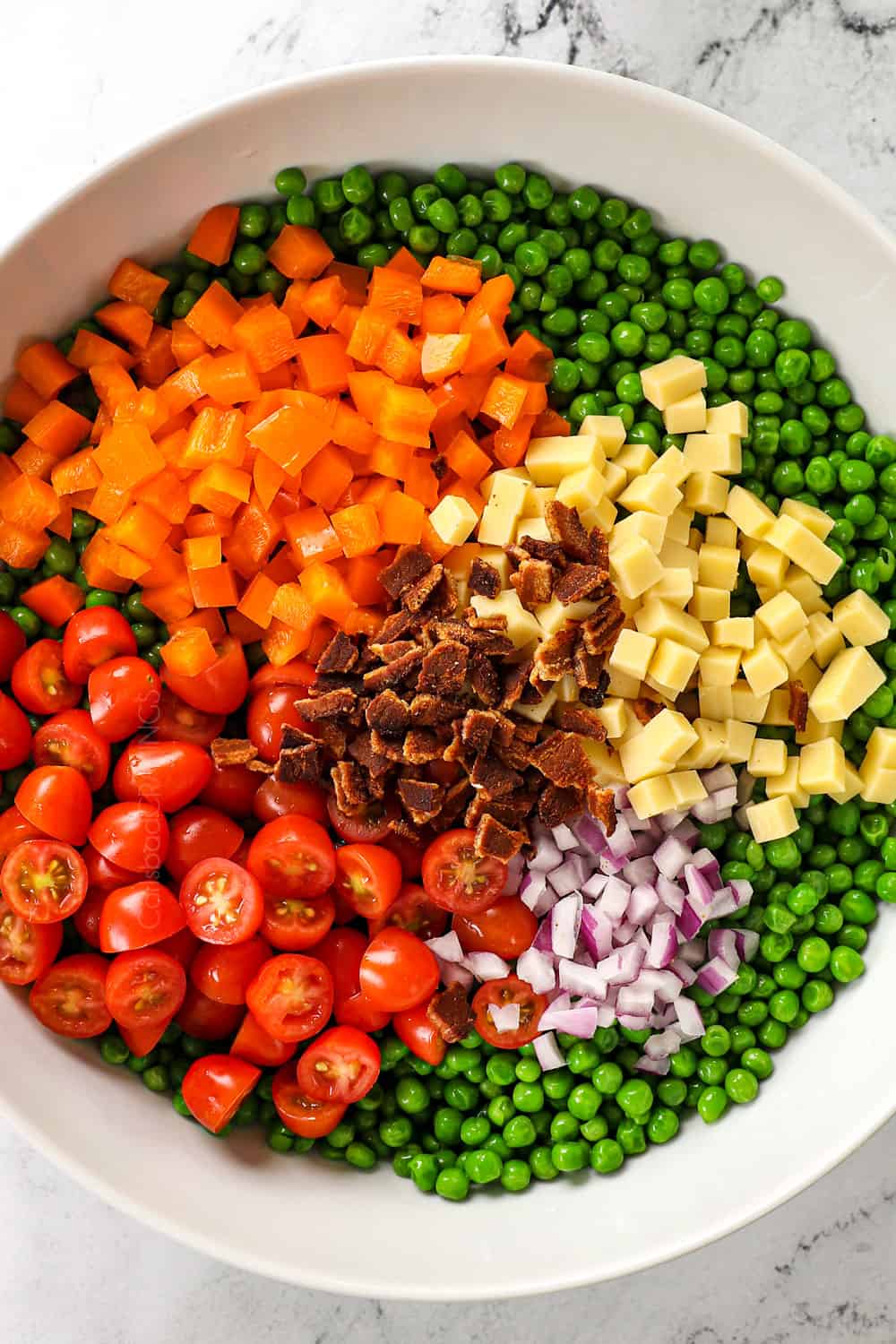 How to Make Pea Salad
It doesn't get any easier than this frozen pea salad! Let's take a closer look at how the recipe comes together (see printable recipe card at the bottom of the post for the complete recipe): 
Step 1: Make the dressing. Whisk together all of the dressing ingredients, then cover and refrigerate until ready to use. The dressing is best after the flavors have had time to mingle.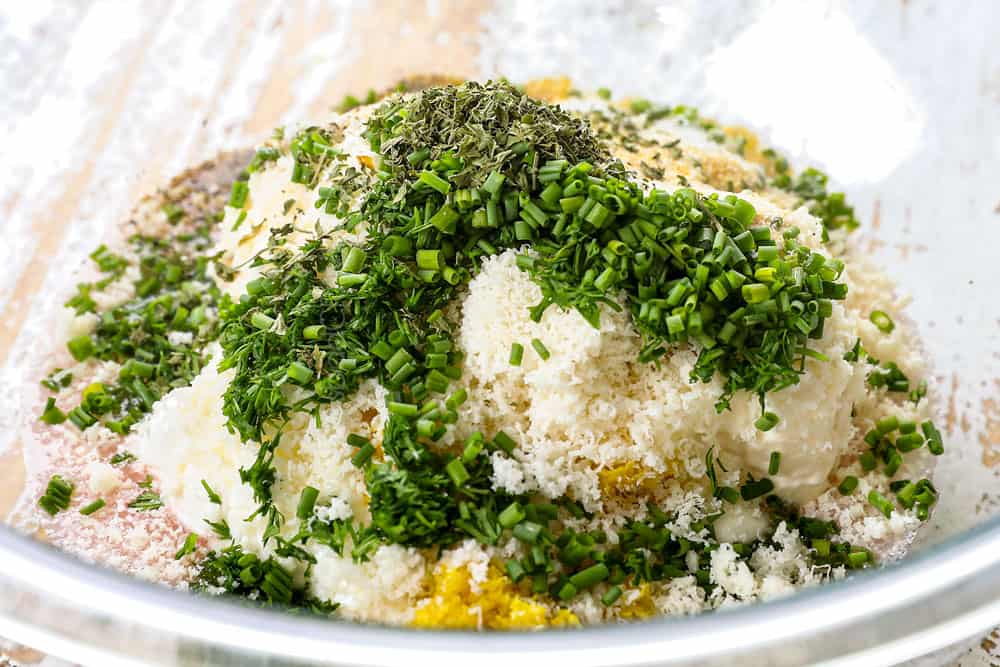 Step 2: Assemble the salad. Add all of the pea salad ingredients to a large bowl, except the bacon.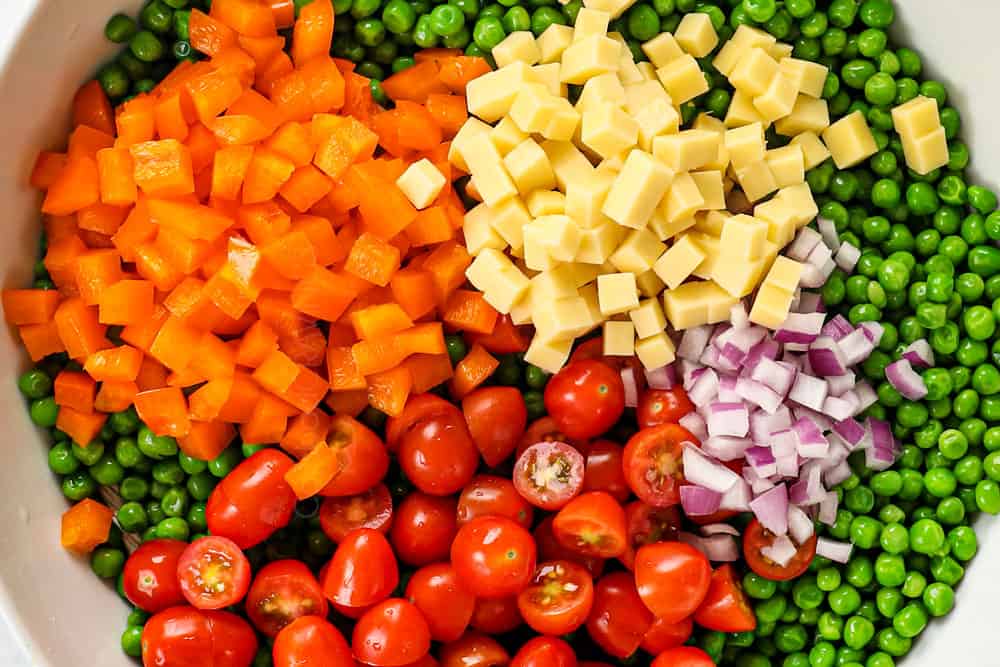 Step 3: Add the dressing. Add the dressing to the prepared salad and stir to evenly combine.  
Step 4: Chill the salad. The salad is best if allowed to chill for a few hours before serving. Again, you want to give the ingredients and flavors time to mingle! 
Step 5: Add the bacon. Toss in the bacon and serve.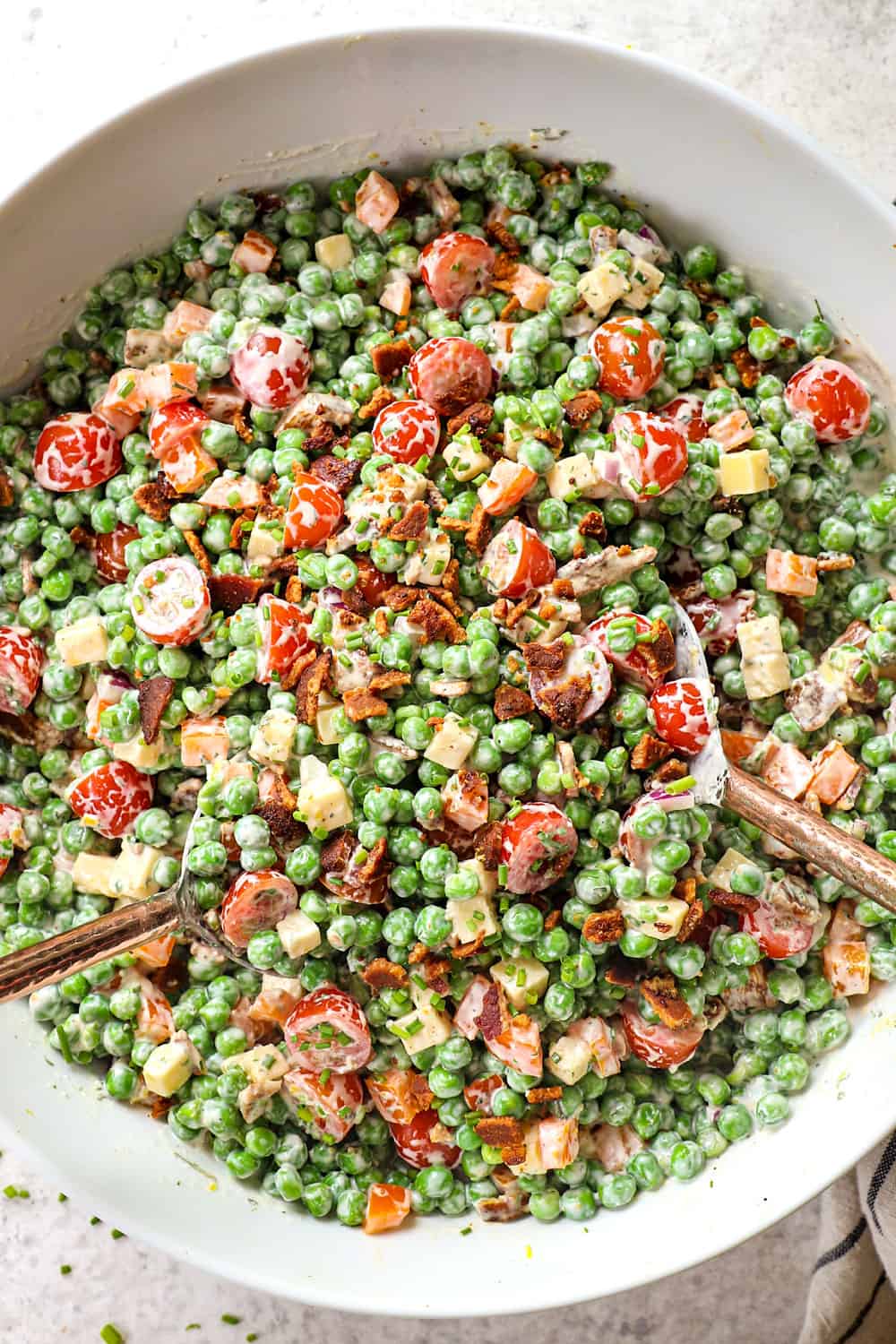 Pea Salad Commonly Asked Questions
Can Pea Salad Be Frozen? 
No, I do not recommend freezing this pea salad. The fresh veggies will release water once frozen and thawed and become mushy, and the creamy dressing could split. This is definitely a dish you want to consume within a few days of making it.
How Should I Thaw Peas for Salad? 
You can thaw frozen peas overnight in the fridge or you can transfer the peas to a colander and rinse them under COLD tap water. Either way, be sure to drain and dry the peas thoroughly before adding to the salad. 
Can I Add Frozen Peas Straight to the Salad? 
No, you must thaw the peas first. If you add the peas to the dressing straight from the freezer, the dressing will become watery as the peas release their moisture. It's best to thaw and drain the peas before adding them to the salad
Can I Use Canned Peas to Make Pea Salad? 
Absolutely not! Canned peas are salty and incredibly soft, which will result in a mushy, lackluster salad. 
Is Pea Salad Best Served Cold or at Room Temperature? 
Pea salad is best served at chilled, but don't let it sit out more than two hours since the dressing contains dairy.
How Far in Advance Can I Make Pea Salad? 
I recommend making this recipe no more than 24 hours before serving it. However, leftovers will last up to five days in the fridge. 
HOW TO MAKE HEALTHIER PEA SALAD
Pea salad is meant to be a crowd pleasing side dish that's so worth the occasional calorie splurge. If you would like to make it a litter lighter, then there are a few modifications you can try to make it a little healthier:
Use olive oil mayo.  Instead of using regular mayo, try using mayonnaise made with olive oil (it will say right on the label).  Olive oil mayo traditionally has half the fat of regular mayonnaise but is still super creamy and tastes better than reduced fat mayo, in my opinion. Of course, you can also use traditional nonfat and reduced fat mayo.
Use nonfat Greek yogurt.  Swap the sour cream for nonfat Greek yogurt and it will still be fabulous.
Use less cheese or swap cheese.  By using half of the cheese, you save half of the calories!  You can also choose a lower calorie cheese such as feta with 75 calories per ounce verses Gouda's 100 calories per ounce.
Use turkey bacon.   Turkey bacon has about ⅓ less fat than regular bacon, including less "bad' fats."  It also has a lower glycemic index. Alternatively, use vegan bacon.
Use vegan bacon. Vegan bacon or vegan bacon bits might sound odd, but when done right can be crispy, smoky and work great as a bacon alternative to make a healthier pea salad. There are several vegan bacon options out there made from either tofu (soy), tempeh, eggplant, coconut, or mushrooms. A 2 ounce serving of vegan bacon ranges from .5 grams of fat to 4.5 grams of fat compared to real bacons 22 grams.  If you're looking to make your own vegan bacon, check out this post by Love and Lemons.
WANT TO TRY THIS Pea SAlad RECIPE?
PIN IT TO YOUR Salad or Side Dish recipe BOARD TO SAVE FOR LATER!
FIND ME ON PINTEREST FOR MORE GREAT RECIPES!  I AM ALWAYS PINNING :)!
©Carlsbad Cravings by CarlsbadCravings.com
Save This Recipe To Your Recipe Box
You can now create an account on our site and save your favorite recipes all in one place!
PEA SALAD
2

16-ounce

pkgs. frozen petite peas,

thawed

1

cup

cherry tomatoes,

halved

12

ounces

thick-cut bacon,

cooked and chopped

6

ounces

Gouda,

cubed (may sub cheddar)

1/3

cup

chopped red onion
LEMON HERB PARMESAN DRESSING
3/4

cup

sour cream or plain Greek yogurt

1/2

cup

mayonnaise

1/4

cup

freshly, finely grated Parmesan cheese

2

tablespoons

lemon juice

1

tablespoon

lemon zest

1

tablespoon

red wine vinegar

1

tablespoon

Dijon mustard

2

tablespoons

minced fresh parsley

(or 2 tsps dried)

1

tablespoon

minced chives

(or 1 teaspoon dried)

1

tablespoon

minced fresh dill

(or 1 teaspoon dried)

1/2

tsp EACH

onion powder, garlic powder, salt, pepper, sugar
Whisk together all of the Lemon Parmesan Dressing ingredients together in a medium bowl; refrigerate.

Add all of the Salad ingredients to a large bowl EXCEPT the bacon. Add the dressing and stir to evenly combine. The salad is best if allowed to chill for a few hours before serving. When ready to serve, toss in the bacon; serve chilled.
Storage:  Store leftover peas salad in an airtight container in the fridge for up to 5 days, noting that the dressing will become slightly watery over time as the vegetables release some of their moisture. 
Did You Make This Recipe?
Tag @CarlsbadCravings and Use #CarlsbadCravngs
Leave a Review, I Always Love Hearing From You!