Panda Express String Bean Chicken is a delicious meal with tender chicken bites, green beans, onions, and mild ginger soy sauce. You can easily make this Chinese dish at home with this copycat recipe.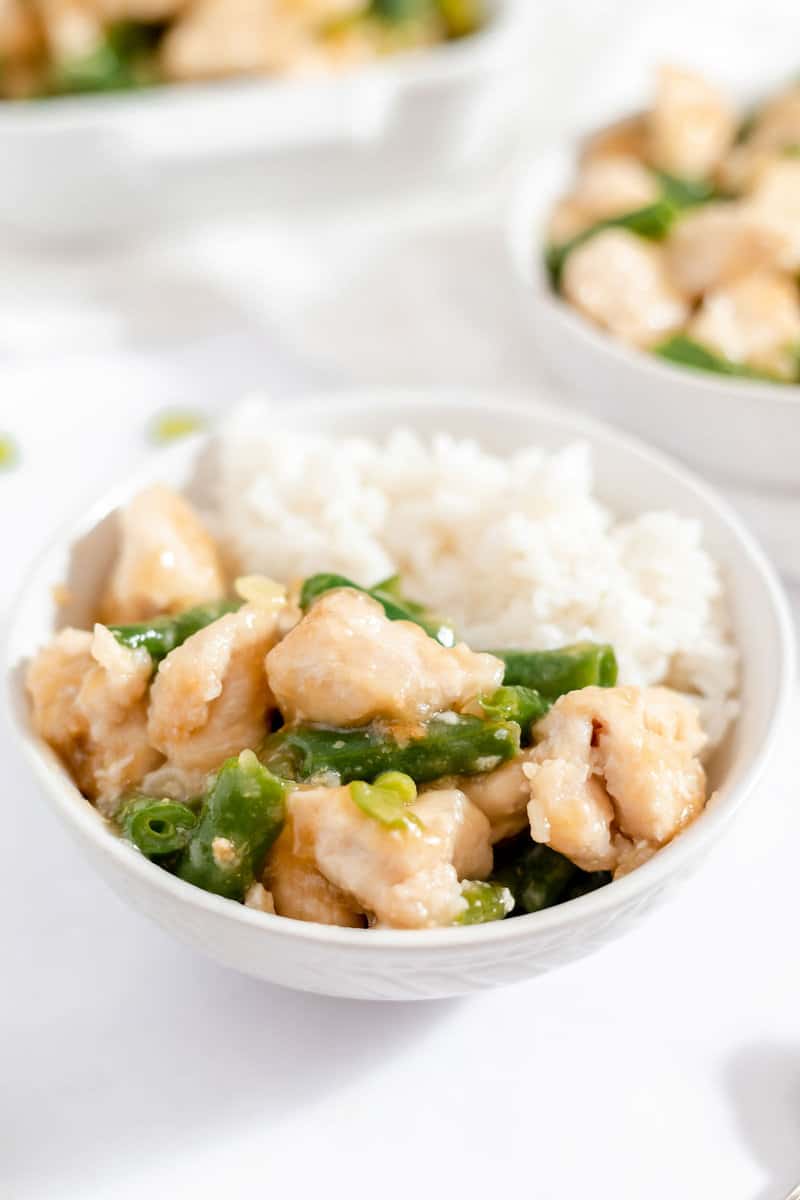 This post contains affiliate links. As an Amazon Associate, I earn from qualifying purchases.
What Makes Panda Express String Bean Chicken the Perfect Weeknight Dinner? 
There is no doubt that our lives busier than ever, and we depend on takeout more than we should. But with the average price of restaurant items increasing, feeding a family food from a restaurant is getting too expensive for many Americans.
Stop paying $30 or more to feed your family, and start making this quick and easy string bean chicken breast Panda Express customers have come to love.
What Makes This the Copycat Recipe for Green Bean Chicken You Must Try? 
Unlike other Chinese recipes that include hard-to-find ingredients, there isn't anything too odd in this string bean chicken breast recipe. There's no need to master any complicated cooking techniques or have any special equipment.
As a bonus, this is a one-pot meal containing meat and vegetables, so there isn't much to clean up!
Panda Express String Bean Chicken Ingredients 
To make the String Bean Chicken Panda Express sauce, you'll need:
Chicken broth
Soy sauce
Seasoned rice vinegar
Garlic
Ginger
Cornstarch
Water
To prepare chicken and green beans, you'll need:
Chicken breast, boneless
Cornstarch
Sesame oil
Green onions
Green beans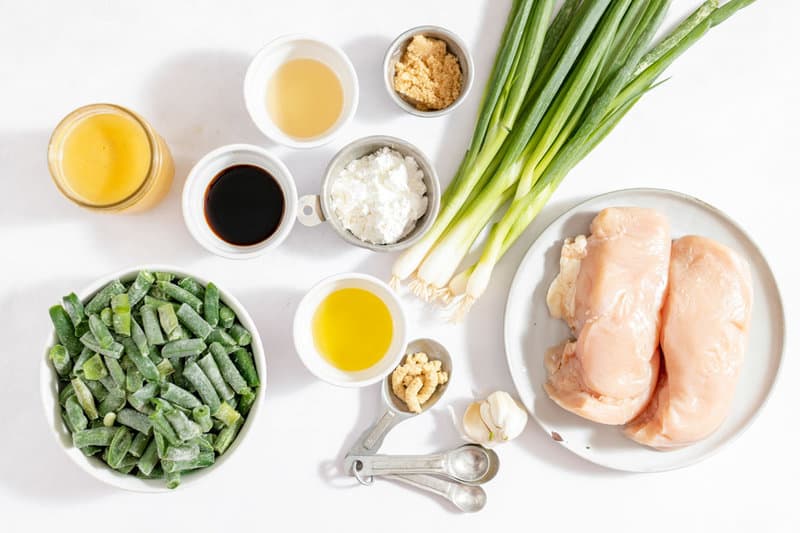 Ingredient Notes
Feel free to use prepared bouillon instead of chicken broth.
Use gluten-free soy sauce if you have gluten intolerance.
If you don't cook with ginger often, try frozen ginger cubes or jarred ginger in this recipe. Both last a long time, come pre-grated, and taste great. 
Apple cider vinegar with a pinch of sugar is an excellent one-to-one substitute for seasoned rice wine vinegar.
You can use fresh or frozen green beans in this recipe.
How to Make Panda Express String Bean Chicken Breast
To cook the sauce:
Grate the ginger and mince the garlic. Set aside.
Mix the chicken broth, soy sauce, and seasoned rice vinegar in a small saucepan over low heat. 
Stir in the garlic and ginger. 
Whisk together the water and cornstarch. 
Pour the slurry into the ginger sauce while whisking. 
Increase the heat to medium and simmer until slightly thickened. Stir continuously and don't reduce too much. The sauce will thicken as it cools. 
Set aside.
To finish the dish:
Trim the ends of the green beans and thinly slice the white onion. Set aside.
Remove any skin and fat from the boneless chicken breast and cut into large dice, about 3/4 to one-inch pieces.
Dry the chicken pieces and toss them in a bowl with the cornstarch. Shake off any excess.
Heat a large skillet or wok over high heat.
Add sesame oil, and when hot, saute the chicken pieces until they develop a nice browned crust and cook through.
Drain the chicken on a paper towel.
Wipe out the pan and put it back on the stove.
Add more sesame oil.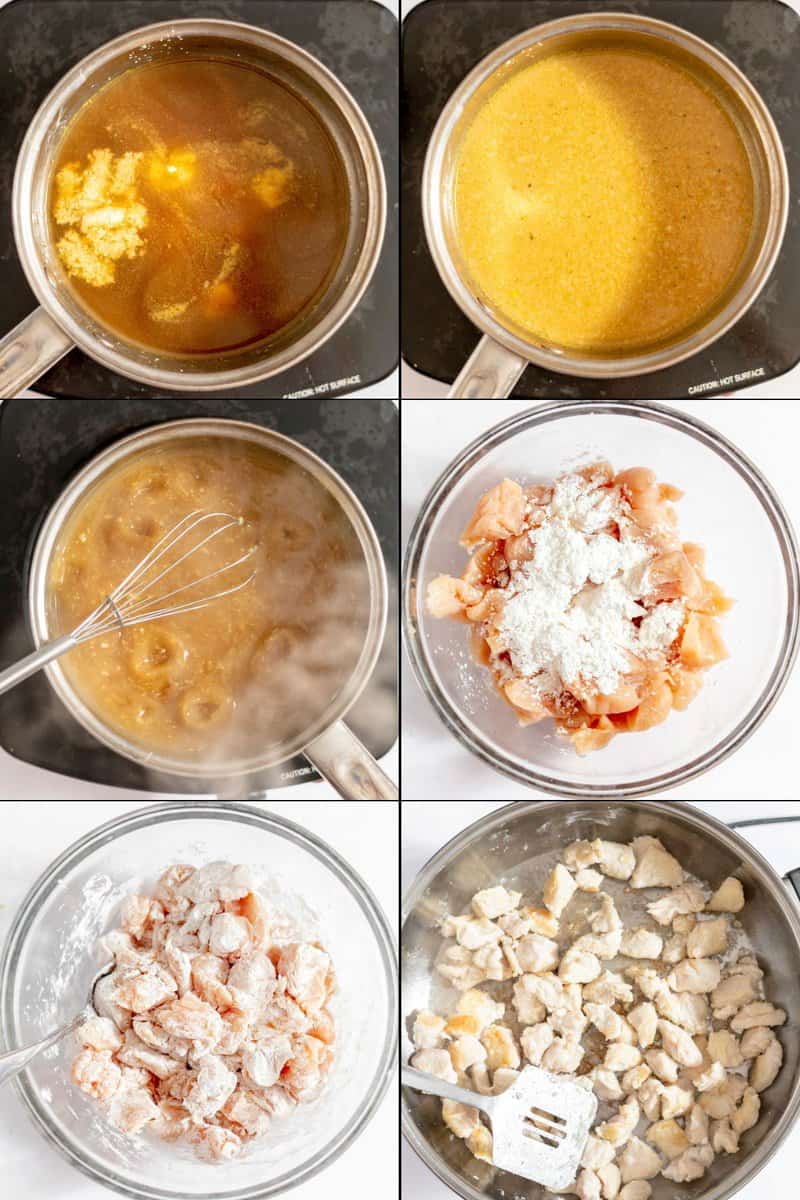 Cook the onions and green beans until the onions are translucent. The green beans should bend slightly but still break if bent too much.
Return the chicken to the pan to warm.
Turn off the heat and toss the chicken and vegetables with the sauce.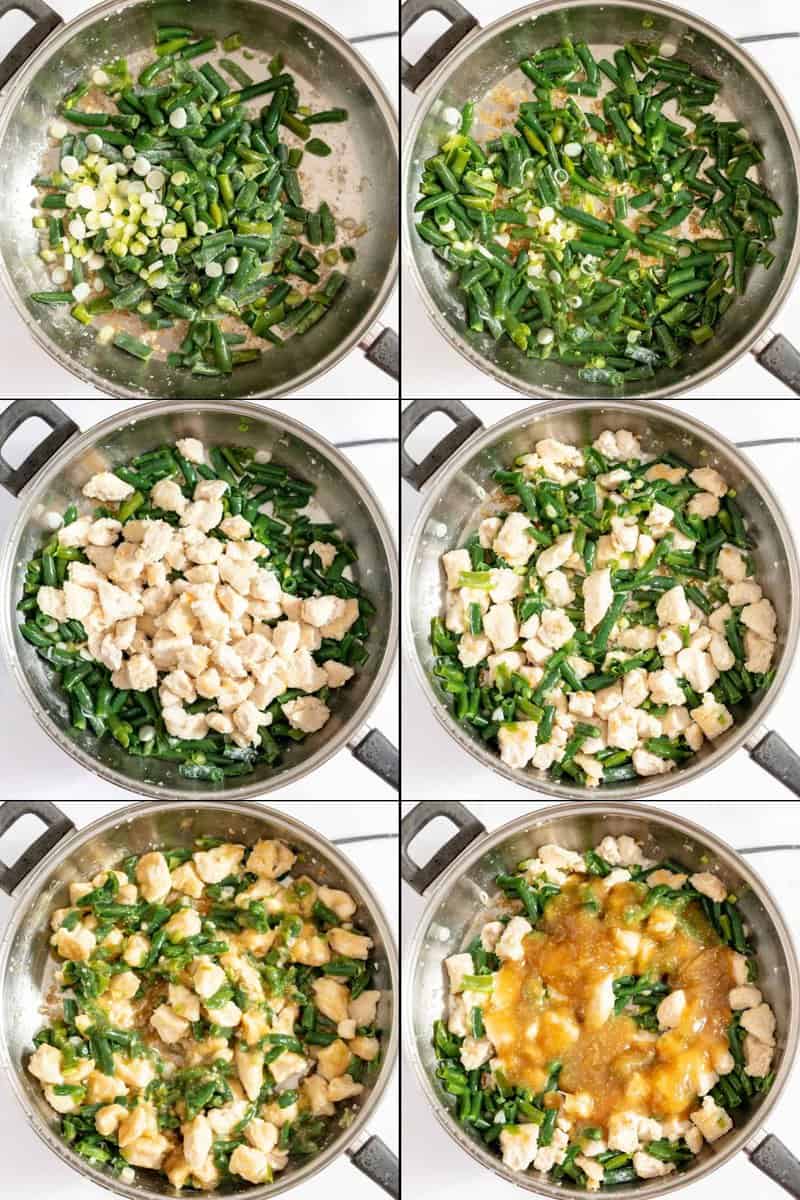 Serve with white rice.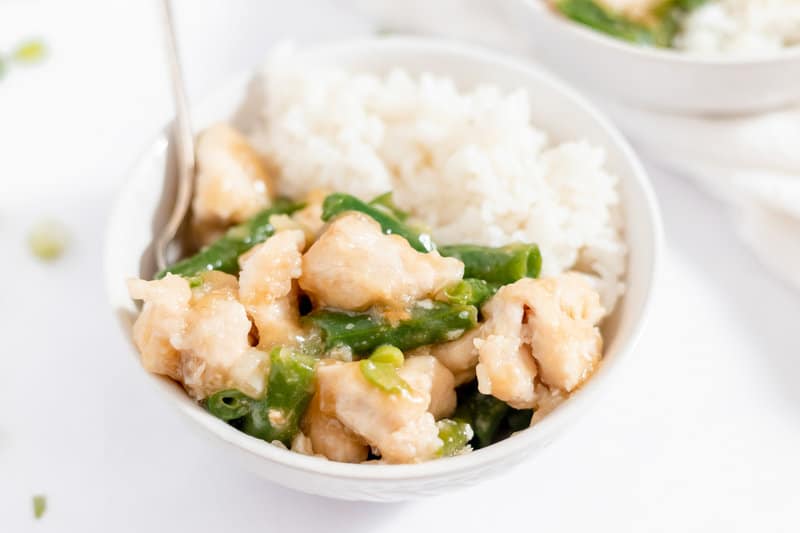 Possible Recipe Variations
You can use this basic recipe to make a bunch of different dishes.
Try using boneless chicken thighs if you prefer the taste.
Substitute snow peas or sugar snap peas for the string beans.
Add a pinch of red pepper flakes for a little extra spice.
Replace the green beans with other fresh ingredients such as bell peppers, Japanese eggplant, carrots, broccoli, or zucchini for variety.
How To Store Leftover Chicken With String Beans 
The best way to keep any extra Panda Express Green Bean Chicken is in an airtight container in the fridge for up to three days. Be sure to let the food cool completely before storing it. Do not reheat more than once. 
How to Reheat Panda Express Green Bean Chicken 
The easiest method of reheating the String Bean Chicken is in the microwave. Place a portion in a microwavable bowl, cover, and heat for a minute. Stir and heat for 45 seconds. If it is not warm enough, use 30-second bursts until it reaches your desired temperature. 
You can also warm leftovers in a pan on the stove over medium heat. Add some chicken stock to prevent the chicken from drying out. 
What's the Difference Between String Beans and Green Beans 
All string beans are green beans, but not all green beans are string beans? Got it? No? Well, it is a bit confusing.
The term 'string beans' is the common name for a variety of green beans that were once known for having a fibrous string running the length of the bean. But adding to the confusion is the fact that most modern string beans do not have these strings anymore.
Use your favorite type of green bean for this dish, whether it is a real string bean or not.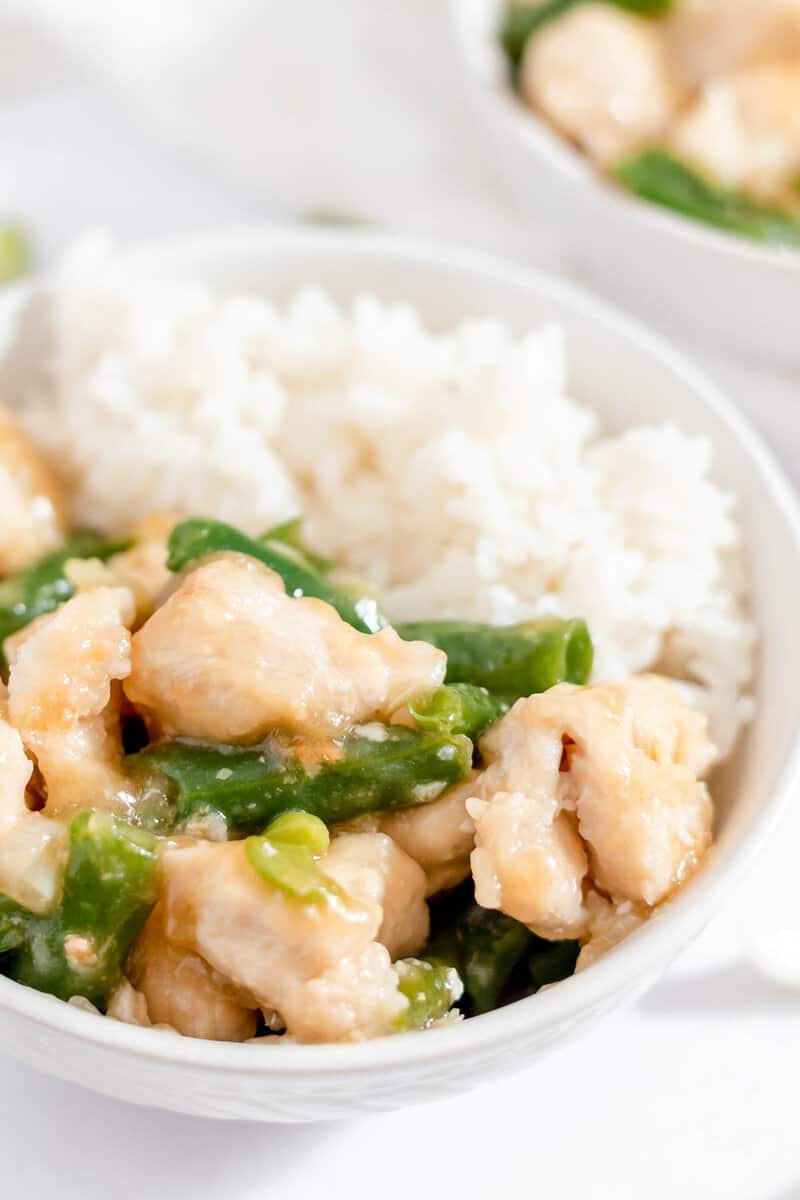 Love Panda Express? Try These Copycat Recipes!
Popular Asian Food Recipes
Check out more of my easy chicken dinner recipes and the best Chinese food recipes on CopyKat!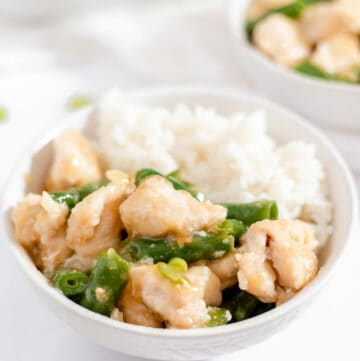 Panda Express String Bean Chicken
You can make Panda Express green bean chicken at home with this easy copycat recipe.
Print
Pin
Rate
Add to Collection Go to Collections
Servings: 6
Calories: 271kcal
Ingredients
For the sauce:
1

cup

chicken broth

¼

cup

soy sauce

2

tablespoons

seasoned rice vinegar

2

teaspoons

minced garlic

1

teaspoon

finely grated fresh ginger

3

tablespoons

cornstarch

¼

cup

water
For the chicken:
1.5

pounds

boneless skinless chicken breast

cut into ¾ – 1-inch chunks

¼

cup

cornstarch

¼

cup

sesame oil

divided

6-8

green onions

thinly sliced

1

12-ounce package

frozen green beans

or 2 cups fresh, washed and trimmed
Instructions
For the sauce:
Whisk sauce ingredients together in a saucepan over medium heat.

Cook until the sauce has thickened and begins to bubble.

Remove the sauce from the heat and set aside.
For the chicken:
Place cubed chicken and cornstarch in a bowl and toss to completely coat chicken with cornstarch.

Heat 2 tablespoons of sesame oil in a large skillet.

Saute chicken until brown on one side, flip, and brown on second side until completely cooked through.

Remove chicken from the skillet.

Add the remaining 2 tablespoons of sesame oil to the skillet.

Add green beans and onions to the skillet and stir-fry for 3 to 4 minutes until just tender.

Add the chicken back to skillet and stir.

Remove the skillet from the heat.

Add the sauce to the skillet and stir to combine.

Serve over rice.
Nutrition
Calories: 271kcal | Carbohydrates: 13g | Protein: 26g | Fat: 12g | Saturated Fat: 2g | Polyunsaturated Fat: 4g | Monounsaturated Fat: 4g | Trans Fat: 0.01g | Cholesterol: 73mg | Sodium: 823mg | Potassium: 563mg | Fiber: 1g | Sugar: 2g | Vitamin A: 408IU | Vitamin C: 8mg | Calcium: 34mg | Iron: 1mg