Filled with a rich filling crab and lobster, this stuffed lobster tail recipe perfectly balances simplicity with sophistication, making it a guaranteed crowd-pleaser.
Courtesy of Executive Chef Alex Kruger-Springer of Southernmost Beach Resort, a serene oasis in Key West Florida, this dish calls for a mix of fresh herbs, spices and arguably seafood's closest companion, old bay.
How to open lobster tails?
The easiest way to cut a lobster tail is by using scissors. First hold the lobster tail firmly in your hand with the tail facing away from you then cut in the middle underneath the shell. Once cut, use a butter knife and separate the meat from the shell. Thoroughly wash afterward.
How to cook lobster tails?
It's a pretty simple process. Start with seasoning the meat with your preferred ingredients; melted butter, parsley, and a pinch of salt and pepper in a small cup. Once seasoned use a pastry brush to apply the mixture onto the meat in the lobster tail. Then place in the oven for 4 – 8 minutes.
How to prepare stuffed lobster tails?
To prepare the stuffing for lobster tails is also quite simple. In a bowl add in lump crab meat, a beaten egg, mayonnaise, fresh chopped parsley, roasted red peppers, minced parsley, minced green onion and old bay. Then mix all the ingredients and gently place the ingredients on top of lobster tail. Make sure the lobster tails have been cooked in the oven at a temperature of 350 degrees for 4-8 minutes. Lastly, return the stuffed lobster tail in the oven for another 25 minutes.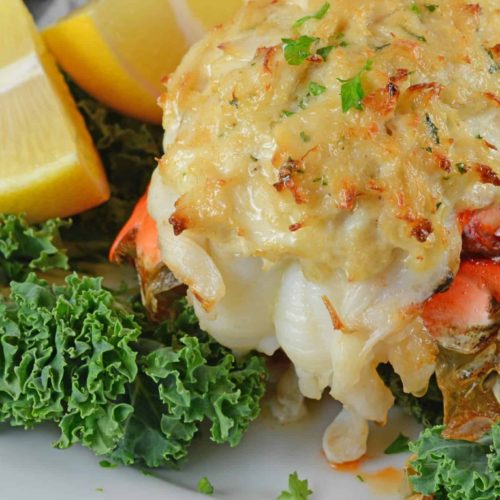 Stuffed Lobster Tail
Executive Chef Alex Kruger-Springer
Filled with a rich filling crab and lobster, this stuffed lobster tail recipe is simple to prepare and guaranteed to be a crowd-pleaser.
1/2

lb

crab meat

1

tbsp

minced green onion

2

tbsp

roasted red pepper

2/3

cup

fine ground bread crumbs

1

large

lightly beaten egg

1/3

cup

mayonnaise

4

tsp

minced parsley

7

oz

lobster tail

4

oz

unsalted butter
Prepping Lobster
Preheat oven to 350 degrees F.

Melt butter

Split lobster tail down the middle, being careful not to completely split the lobster

Pull the lobster meat out of the shell and set on top of the shell.
Crab Meat Stuffing
Mix mayonnaise, beaten egg, minced green onion, minced parsley, old bay, red peppers and bread crumbs and blend well.

Gently mix with lump crab meat until paste like consistency.

Place mixture on top of lobster tail

Sprinkle with paprika

Bake in the oven for 25 min

Remove the stuffed lobster tails from the oven

Serve with lemon wedges (optional)

Enjoy!