My healthier Peach Crisp recipe with almond flour is an easy low carb dessert that we love making all year long!
In fact, it's such a breeze of a dessert that my boys used to make it when they were in grade school, and I loved that they were baking, and eating, good food.
How to Make Healthier Peach Crisp
This healthier Peach Crisp is made with:
As you can see from this ingredient list, Peach Crisp is one of those easy recipes for gluten free desserts that's not drowned in white sugar!
Peach Crisp Recipe with Fresh Peaches
I prepare this recipe with luscious fresh peaches, but we have made it with frozen peaches too.
Peach Crisp Made With Frozen Peaches
If you make this with frozen peaches, be sure to let them thaw completely before you make the crisp.
When I used frozen peaches, they took around three hours to thaw out to room temperature.
My healthier Peach Crisp recipe is the perfect example of a great gluten free, grain free, low carb dessert that won't leave you with a high carb hangover. Enjoy!
Peach Crisp Recipe With Almond Flour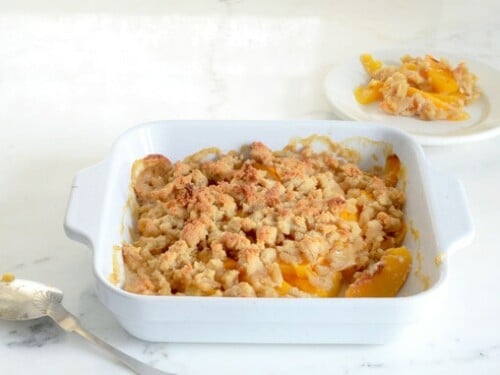 Print
Email
Pin Recipe
Instructions
Pulse in butter, maple syrup, and vanilla

Sprinkle topping over fruit

Bake at 350°F for 35-45 minutes

Remove from oven, then cool and serve
Prep Time 10 mins
Cook Time 35 mins
Total Time 45 mins
Prevent your screen from going dark
Diagnosed with Celiac Disease
I started creating healthy dessert recipes when I was diagnosed with celiac disease in 1998, during the Dark Ages of gluten free.
At that point, following a gluten free diet became critical.
Over the years, I've learned how important eating low carb is as well, given that celiac and diabetes ride on the same gene –having one increases the likelihood of having the other.
Easy Gluten Free Recipes
This is also why I started following a grain free diet, a couple of decades ago. Almond flour and coconut flour make up the base of my easy gluten free recipes. No corn, potato, or rice flour here!
Recipes with Almond Flour
After testing just about every gluten-free flour available, I can save you a lot of time and hassle when I say that almond flour is far superior to most other gluten free flours in terms of:
Taste
Ease of Use
Nutrition
Easy Recipes for Gluten Free Desserts
And this crisp is another one of my easy recipes for gluten free desserts made with almond flour.
It also has even less added sweetener than the usual peach crisp, with only one tablespoon of maple syrup in the entire recipe.
Recipes for Healthy Desserts with Fruit
Yes, you can have your cake and eat it too! This is important when dessert is your favorite part of the meal and you don't believe in deprivation.
That's why I've created so many dessert recipes that are easy and healthy.
Read on for more fruit desserts below.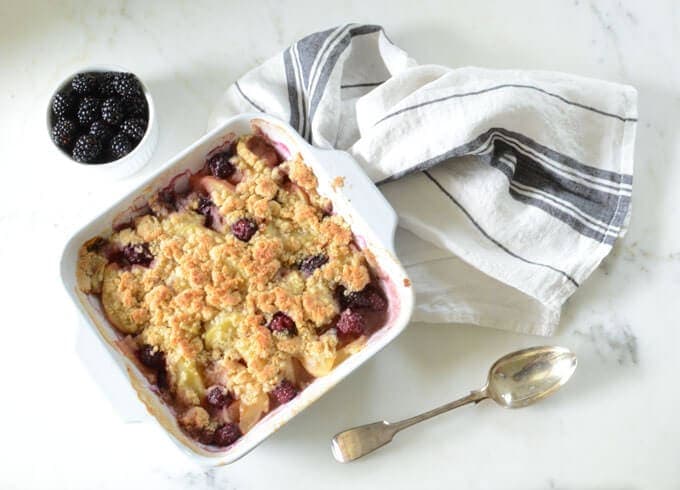 Apple Crisp Recipe Easy
When I create a recipe, saving time in the kitchen is essential, but preparing delicious and nutritious recipes for my family is just as important.
My Apple Blackberry Crisp can be assembled in 10 minutes!
It's made with apples, blackberries, lemon juice, and vanilla, then finished off with a high protein almond flour crumble topping, sweetened with a touch of maple syrup.
The boys used to say, mom, would you make us a apple crisp recipe when they were little, and I would chuckle as they fumbled adorably for the proper article while making their request.
Now they're all grown up and still ask for apple crisp when they come home to visit!
Looking for a sugar free tart apple dessert that is best served a-la-mode? Try my Granny Smith Apple Crisp made with granny smith apples, almond flour, ground cinnamon, and xylitol.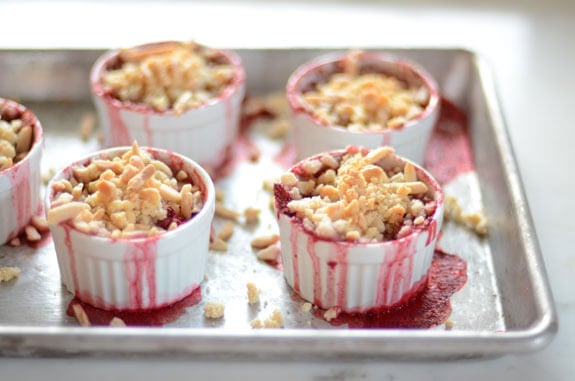 Recipe for Berry Crisp
Bursting with low carb fresh strawberries, my healthy sugar-free Strawberry Crisp is a great keto dessert.
This is a truly simple recipe made with 5 ingredients, where your oven does most of the work.
While baking the strawberries, use your food processor to pulse together the low carb, gluten free topping made with almond flour, slivered almonds, salt, and shortening or butter.
Recipes for Plum Jam
Luscious homemade jam is fruit at its finest. My Sugar Free Plum Jam Recipe cooks down the whole fruit with water, lemon juice, and stevia. Nothing more!
It's full of fiber, loaded with a healthy dose of vitamin C, and bursting with tart flavor.
I love serving Sugar Free Plum Jam on top of toasted Keto Bread smothered in ghee.
Healthier Dessert Recipes with Almond Flour
I love creating healthy low carb desserts that I can feel good about serving to my family. And I love sharing them with you too! What's next on your baking agenda?
This recipe for Peach Crisp With Almond Flour is an oldie but goodie from the archives. I first shared it in 2014.