I've been on a gluten free diet for over 25 years. During that time, I've developed the best recipe for Gluten Free Chocolate Chip Cookies with Almond Flour you'll ever find.
Best Recipe for Gluten Free Chocolate Chip Cookies with Almond Flour
I live with a family of cookie monsters, so if you need a recipe for healthy cookies, you've come to the right place.
Chocolate Chip Cookies Recipe Gluten Free
Like everything I prepare, this Chocolate Chip Cookies Recipe is gluten free, and it's also my husband's favorite!
Whenever I make a batch, he grabs one and asks, "is this the cookies recipe with butter?" Yes, it is! Butter gives these healthy cookies a rich creamy flavor with the perfect mouthfeel.
Gluten Free Chocolate Chip Cookies with Almond Flour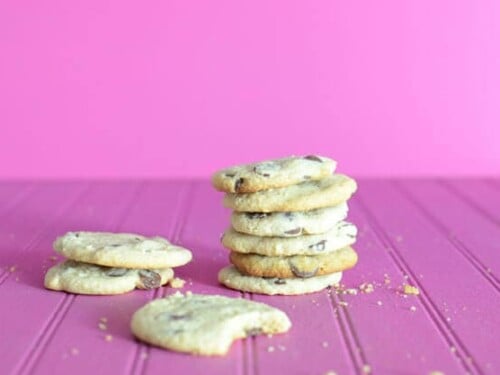 Print
Email
Pin Recipe
Instructions
Pulse in butter, vanilla, and maple syrup until dough forms

Remove blade from processor and stir in chocolate chips by hand

Press balls of dough down gently

Bake at 350°F for 7-10 minutes

Cool for 15 minutes (do not handle prior or cookies will break)

Serve
Prep Time 10 mins
Cook Time 7 mins
Total Time 17 mins
Prevent your screen from going dark
Chocolate Chip Cookies Recipe Simple
Of course, delicious food is a must. But easy recipes are a close second.
Cookie Recipes That are Easy
Made with 5 ingredients (plus salt and baking soda) the dough for these simple chocolate chip cookies can be thrown together in under 10 minutes.
Recipe for Healthy Chocolate Chip Cookies
After delicious and easy comes nutritious, but your family will never know these are anything but melt-in-your-mouth delicious.
Why the obsession with healthy gluten free cookies? Read on!
Diagnosed with Celiac Disease in 1990s
I began focusing on gluten free recipes in the 1990s.
Unfortunately, the gluten free diet was not enough to heal my gut. I took things a step further, eliminating rice, quinoa, potatoes, and corn which helped give me some relief from digestive issues and multiple sclerosis symptoms.
The Grain Free Diet
At that point, I went on a strict grain-free diet.
I became even more committed to this way of life when my son was diagnosed with celiac disease in 2001.
Diet restrictions for a little one are super tough, so I made it my mission to create delicious healthy treats for my 3 year old kiddo –he's now 24 years old!
My easy recipes for dessert were created for him, and they are all gluten-free, grain-free, and lower carb.
What Is the Paleo Diet?
Decades ago, before it was called the paleo diet, we simply referred to the way we eat as grain free and healthy.
Keto Diet and Intermittent Fasting
My eating plan has continued to evolve over the years. Paleo friendly potatoes and rice make me incredibly ill, and I thrive with a higher level of healthy fat, so I moved over to the keto diet.
I also find intermittent fasting now and then helps to control my inflammation levels.
Biochemical Individuals
We're all bio-chemical individuals and need to listen to our bodies. To put it simply, I eat food that makes me feel good, and it just so happens all of that food is grain-free. So are my cookie recipes!
Cookie Recipes Healthy
My easy homemade cookies recipes take dessert to the next level because they're filled with a variety of wholesome ingredients.
And in my healthy cookies with chocolate chips, I use the best organic dark chocolate to keep blood sugar levels stable.
Healthy Cookies with Almond Flour
What else goes into keeping this treat wholesome? Making cookies with almond flour instead of high glycemic white flour!
Healthiest Cookie Recipes
So, while at one time the term "healthy cookies" may have seemed like an oxymoron, that is no longer the case.
My cookies with almond flour are fabulous because they're:
Low Carb
High Protein
Nutrient Dense
Gluten Free
Full of Fiber
Recipe for Cookies with Almond Flour
Using this vitamin rich base in my cookie recipes means baking with fewer ingredients while upping the flavor.
I also focus on using small amounts of natural sweeteners to keep my cookie monsters healthy.
Gluten Free Recipes for Cookies
Here are my favorite gluten free recipes for cookies. I hope you love them as much as we do!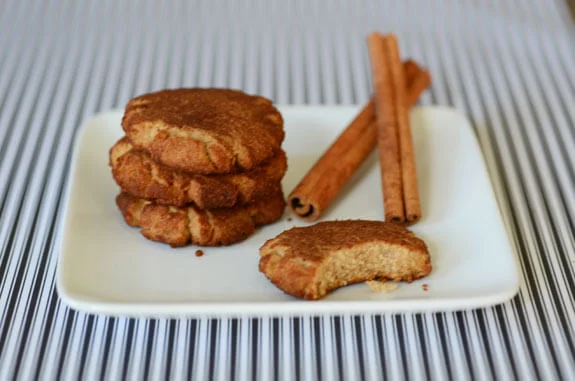 Recipe for Snickerdoodles Cookies
My mouth is watering just thinking about Snickerdoodles warm out of the oven.
This low carb, gluten free confection is made with a base of almond flour and sweetened with honey.
Bonus –antioxidant rich cinnamon helps control glucose levels, and this recipe is egg free and dairy free!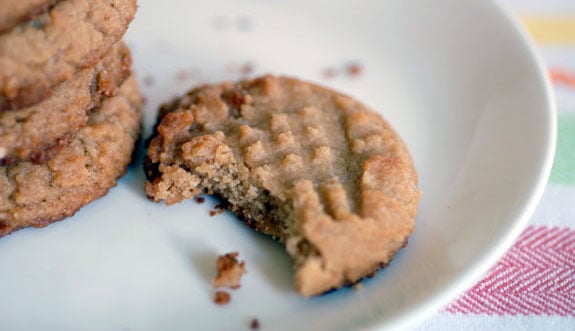 Cookies Recipe Peanut Butter
Creamy Peanut Butter Cookies made with honey and vanilla that are ready to devour in 15 minutes? Yes, please.
My classic vegan cookies with peanut butter will have the whole family begging for another batch. 
Nice and crisp around the edges, yet deliciously soft on the inside, you'd never know this is one of the healthiest cookie recipes around!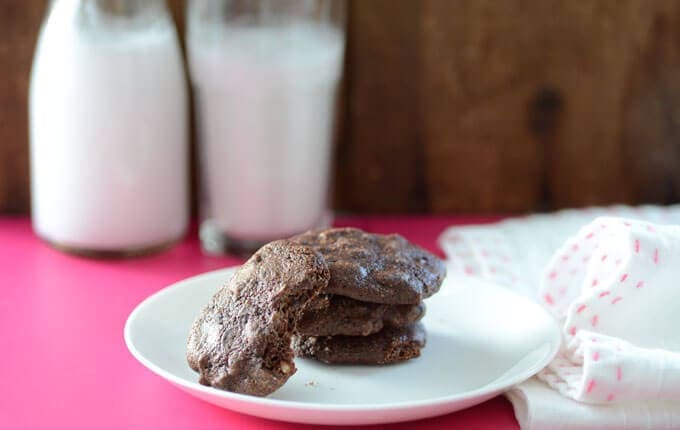 Cookies with Chocolate Recipe
Rich, creamy dark chocolate and pecans are found in every scrumptious bite of my Chocolate Decadence Cookies.
This recipe for simple cookies is the ideal celiac friendly indulgence, with almond flour, maple syrup, vanilla, and a double dose of chocolate in the batter that's ready quicker than the oven can heat up.
Part of a heart-healthy diet, dark chocolate is flavanol-rich in disease-fighting antioxidants.   
Cookie Recipes Tollhouse
Growing up, I came home every day after school and baked cookies.
In fact, I loved baking so much that by the time I was in high school, I used the Tollhouse Cookie Recipe to make batch after batch of treats. I sold these homemade goodies during my breaks from teaching tennis lessons at the local tennis club.
I loved that wonderful Tollhouse cookie recipe, but it did not love me back, so I created my own healthy version.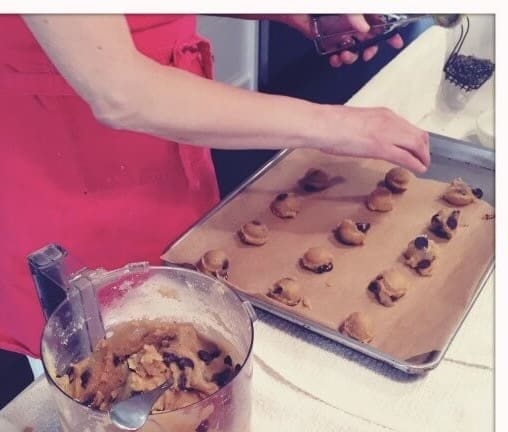 Healthiest Cookie Recipes
With only 7 ingredients, my Gluten Free Chocolate Chip Cookies with Almond Flour are easier to make than Toll House cookies and just as good! Now my special recipe is yours too!
This recipe for Gluten Free Chocolate Chip Cookies with Almond Flour is an oldie but goodie from the archives. I first shared it in 2015.