Canned chickpeas, when tossed with a little oil and seasoning, transform into a crispy, snackable, addicting little bite!  You can roast chickpeas in the oven with great results, but the air fryer cuts the cooking time down from 45 minutes to only 10-15 and they turn out crispier than ever.  These crunchy morsels are not only great for snacking, but also a crunchy addition to salads and wraps. Try some air fryer chickpeas and let me know what you think!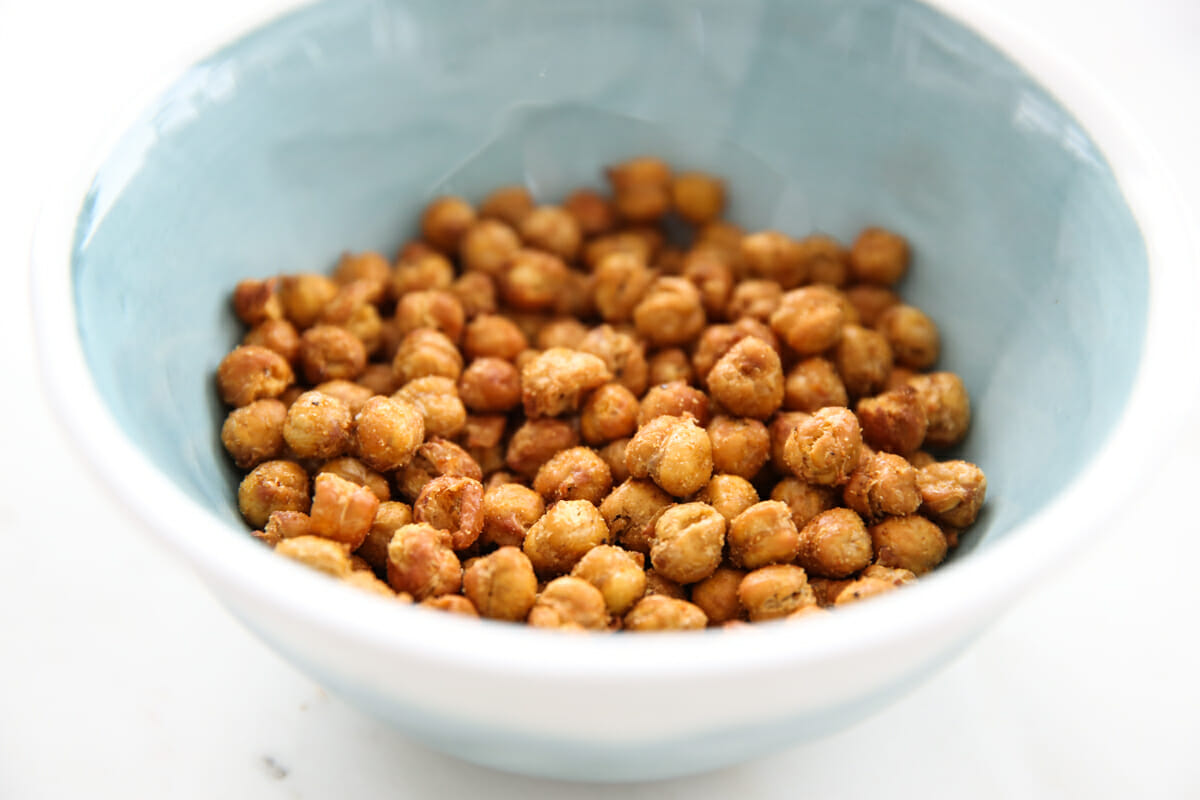 Ingredient and Equipment Notes
Chick Peas – Chickpeas are also known as garbanzo beans and for this recipe you specifically need them canned, as opposed to dry in a bag.
Oil – I use olive oil, but feel free to use any oil you like to cook with.  The oil not only helps adhere the spices to the chickpeas, but also helps with crisping.
Seasonings – Feel free to mix up the seasonings however you like!  This recipe is very flexible and you can replace the spices with others you enjoy.  You might also like to dust some additional spices on after cooking since roasting really mellows out the flavor of the spices.
Air Fryer – The air fryer works incredibly well for toasting chick peas and cuts the cooking time down significantly. If you don't own an air fryer, you can make them in the oven.  Click here for our Oven Toasted Chickpea Recipe.  Many people ask what Air Fryer I have- I own a PowerXL brand and I've been really happy with it.  I noticed this air fryer was just rated the highest by America's Test Kitchen.  Any air fryer will do for this recipe!
Instructions
Drain and rinse chickpeas/garbanzo beans and then place them on a few paper towels and pat dry.
Place them in a bowl and add oil and spices and toss to coat.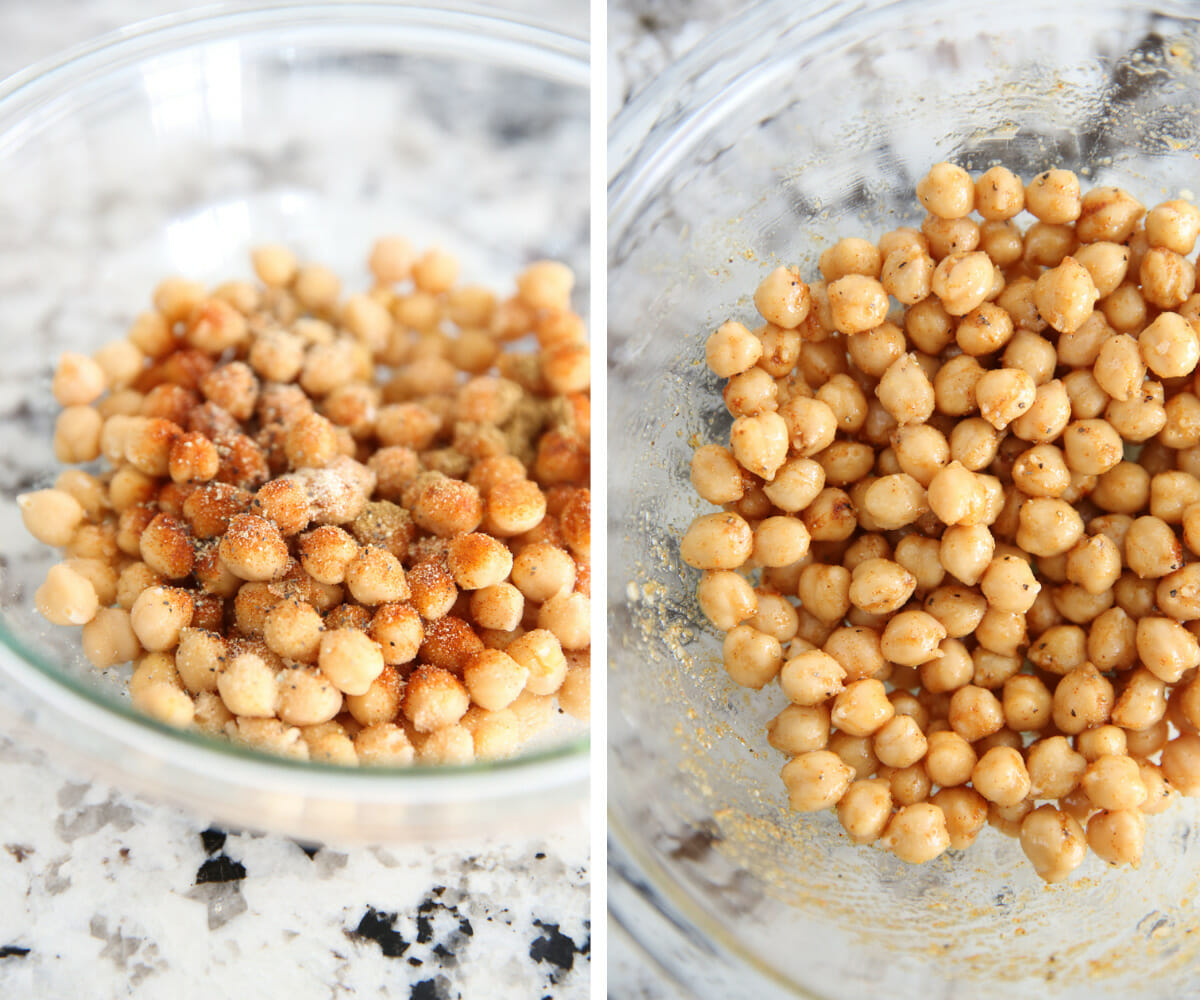 3. Transfer to air fryer and cook at 400 for 12-15 minutes until crispy.  Remember all air fryers will cook a bit differently, you may cook them even more than 15 minutes for maximum crunch!  The best way to test is to pull one out and blow on it to cool.  If it's still soft, cook a bit longer.  I have found that I personally cook mine longer than most recipes call for.  (15-18 minutes, sometimes up to 20). I have found that in order to keep them crunchy for a time after cooking, it's important to get them really really crunchy right out of the oven.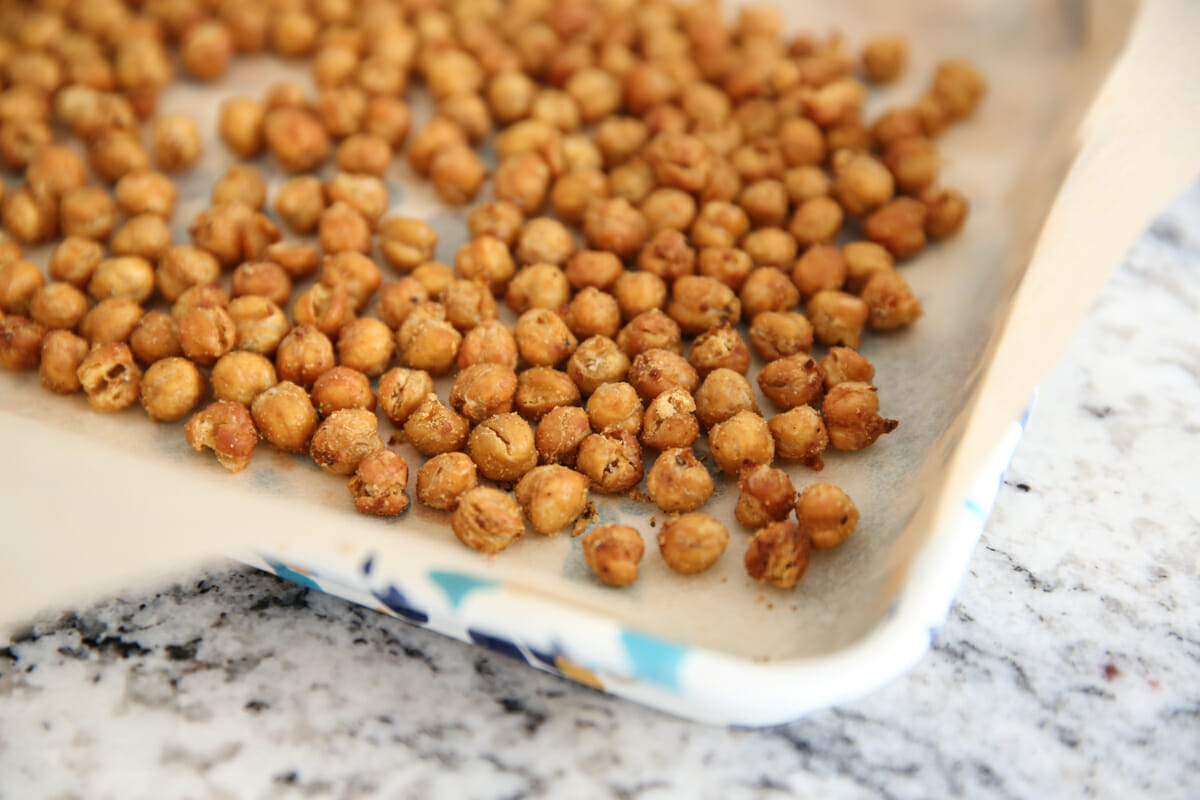 Serving Suggestions
Toss in a salad instead of croutons
Tuck into a wrap as a great meatless protein
Snack on them right out of the bowl!
FAQ's
How do  you store them? 
These crunchy chickpeas are best eaten quickly after cooking.  They do tend to lose their crunch over time, especially if they were not cooked to completely crunchy.  If they have the tiniest bit of chew to them after cooking, they will turn soft after storing.  So make sure you are cooking them long enough to be crunchy, and after that I've had good results storing them both in an air tight container, and also just letting them sit out in the open in a bowl.  I would avoid zip-top bags.
Can I try different seasonings?
Yes!  Try all the seasonings.  Literally anything that sounds good.  I also recommend dusting on a little extra after cooking for a flavor boost.
Print
---
Description
Crunchy, toasted, seasoned chickpeas perfect for putting on salads, in wraps, or just for for a snack!
---
1 can chick peas, drained and rinsed
1 tablespoon olive oil (or oil of choice)
1/2 teaspoon kosher salt
1/8 teaspoon black pepper
1/4 teaspoon onion powder
1/4 teaspoon garlic powder
1/4 teaspoon smoked paprika
---
Drain canned chickpeas and rinse with cool water.
Lay out on a few paper towels and pat dry.
Place chickpeas in small bowl and drizzle with olive oil and spices and toss to combine.
Place in air fryer in a single layer and cook for 12-15 minutes, shaking once in the middle (if you remember- no biggie if you don't!) Pull a large one out and test it.  If it still has a soft bite to it, cook an additional few minutes until crunchy.  I personally cook mine for more like 15-18 minutes, sometimes up to 20 to get them completely crisp!
Let cool before putting into a bowl.  Store open at room temp (if you live in a dry environment) or in an airtight container.
---
This post contains affiliate links