Your pellet grill is a fully functional smoker, and it can make all of your smokehouse favorites in your very own backyard!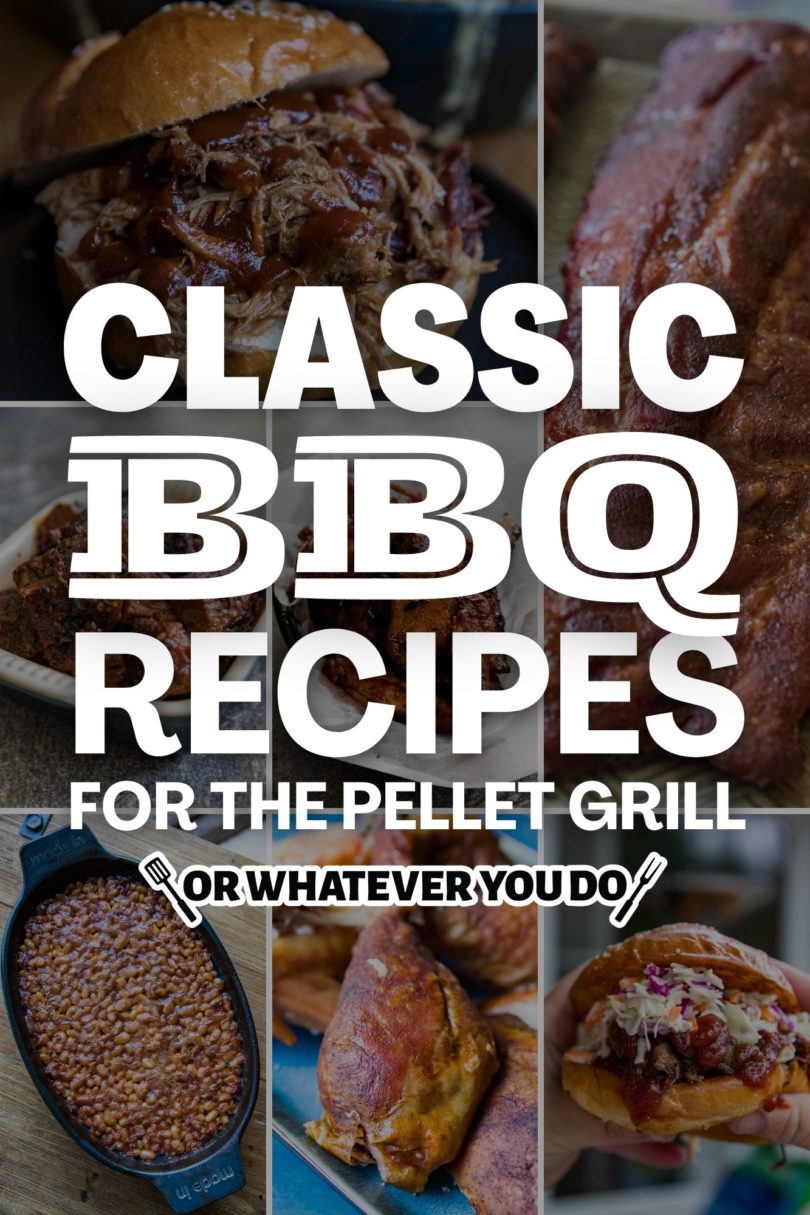 RIBS
From ribs with a bite to fall-off-the-bone, you can make them however you want on your pellet grill!
These delicious smoked ribs are coated with a spicy blueberry habanero rub before spending several hours on the pellet grill!
These spicy, tender ribs can be made from either St. Louis ribs, spare ribs, or baby back ribs. They have a spicy rub and a spicy sauce and are a delicious way to enjoy the bold flavor of gochugaru.
Tender boneless country-style pork ribs are coasted in all-purpose Everything Rub before getting slow smoked on the pellet grill, and braised in bbq sauce for the last couple of hours.
These no-fuss Traeger No-Wrap Ribs are amazing! Cooked straight through at 275°, no-wrap needed, until they are bendy and tender.
Delicious, tender, packed-with-flavor Traeger Smoked 3-2-1 Ribs! This is a solid method for cooking ribs. Get my suggested rubs below!
Brisket
Our smoked brisket rivals anything you can get at the local BBQ joint, get the recipe below as well as a few of our favorite ways to use up any leftover brisket you might have laying around!
My easy smoked brisket recipe is cooked on a Traeger Pellet Grill, and is one of the best meals I've ever had. Simple seasonings and attention to detail make for a piece of meat you won't soon forget.
Fire up the Blackstone and cook up some of these delicious brisket tacos! Perfect for using up leftover brisket and making a quick, tasty dinner.
Freshly risen bread dough is stuffed with smoked barbecue brisket and then baked (or grilled) until the buns are golden brown.
Tender smoked brisket gets loaded on top of fresh dinner rolls and topped with all the cheese, horseradish aioli, and topped with a garlicy butter rub. Great for a crowd!
Delicious hearty chili is made even better with the addition of leftover Traeger-smoked brisket. Use your favorite beans and your favorite toppings to make this chili your own!
These delicious homemade baked beans feature copious amounts of homemade brisket it the match to give it an extra meaty, smokey flavor that you'll be tempted to make into a meal.
Pulled Pork
Pork butt is ever-versatile, and you can't have BBQ without it. From a traditional method smoked for hours and hours (and hours), to our shortcut method using the pressure cooker, we've got everything you need here and ideas on what to make with the rest, too.
This Traeger Pulled Pork takes a while to get on the table, but the long cook is mostly hands-off and totally worth it. This one needs to be started the day BEFORE you want to eat!
My Shortcut Smoked Pulled Pork has all of the flavors of the traditionally smoked pork shoulder, but utilizes an electric pressure cooker along with a pellet grill to give you all the smoke flavor, but shaving several hours off of the overall cook time.
These smoked pulled pork enchiladas use pellet grill pulled pork that gets wrapped in tortillas and stuffed with cheese before being smothered with enchilada sauce and more cheese before getting a final smoke.
This delicious pulled pork is made with a surprising cut of pork: a sirloin roast! These economical roasts are widely available as 4-packs at Costco, and are one of my favorite things to use for this recipe.
Tender smoked pulled pork gets heaped onto slider buns and then covered with cheese! The top of the buns is brushed with a buttery mixture that makes these the perfect sandwich!
Fire up the Blackstone and cook up some of these delicious pulled pork tacos! Perfect for using up leftover pulled pork and making a quick, tasty dinner.
This easy Pulled Pork Tortilla Soup recipe uses leftover pulled pork and is a snap to throw together! We love doing smoked pulled pork on the weekend, and then making this soup with some of the leftovers during the week.
Our Homemade Smoked Pulled Pork Baked Beans are tangy, delicious, and are a great side or main! Filled with tender smoked and pulled pork butt, you're going to want to make extras because people are going to want to take home these leftovers!
Poultry
Turkey and chicken – oh my! Poultry on the smoker is the best kind, and we have all the recipes you need here.
Traeger Smoked Turkey is going to quickly become your new favorite turkey method. Moist, tender, and with just enough smoke to keep it interesting – you'll be coming back for seconds.
This chicken lives up to ALLLLLL of the hype. Traeger Grilled Chicken is going to be the best roasted and grilled chicken you've ever had. 
This delicious Smoked Chicken Salad Sandwich is simple to throw together, and a perfect way to use up those Traeger chicken leftovers!
Barbecued Chicken Lollipops are lollipopped, cooked on the pellet grill, and slathered in barbecue sauce. Easy to eat, and a backyard cookout staple.
Easy smoked chicken thighs on the pellet grill are not only simple and fast, but SO delicious too. You can't miss these!
Traeger Smoked Turkey Legs made at home on your pellet grill! Brine them, smoke them, and enjoy one of the best bites that BBQ can produce.
This easy smoked turkey breast is cooked on a pellet grill, and is the perfect way to cook a turkey breast! Use it for sandwiches or on top of a big pile of mashed potatoes and gravy, but you've got to try this!
Spatchcock Chicken is the best turkey! Get used to evenly cooked, moist, juicy, and delicious meat – both white AND dark.
Where's the BEEF?
There are so many ways to make incredible smoked beef on the Traeger! Find our favorite recipes below.
This epic smoked bbq beef sandwich is an all-time favorite of ours! Tender, shredded beef, crunchy tangy coleslaw, and your favorite bbq sauce!
Burnt Ends
They aren't burnt, and they actually aren't always ends either. But they are delicious.
Tender smoked beef brisket is cubed and coated in sauce and seasonings before getting slowly caramelized on the grill.
These tender pieces of pork belly are slow-cooked on the Traeger Pellet Grill over live fire and then get a barbecue sauce bath to finish them off and leave them fork-tender and full of flavor.
These tender pieces of chuck roast are slow-cooked on the Traeger Pellet Grill over live fire and then get a barbecue sauce bath to finish them off and leave them fork-tender and full of flavor.
This simple and classic appetizer is taken for a smokey, delicious turn when we turn those tiny smoked sausages into a burnt end style bite!
Classic BBQ Side Dishes
All of your favorites are home-tested and friends and family approved.
Skip the store-bought pasta salads and whip up this homemade Greek pasta salad in no time flat. Colorful, vibrant, packed full of rich flavors, and a homemade Greek dressing that will blow you away.
Delicious dilly tuna pasta salad is a perfect pair for any of your summertime gatherings!
Smoked chicken thighs are highlighted in this tangy, cheesy pasta salad! Hearty enough to be a meal, but makes a great barbecue side dish too.
This simple potato salad takes smoked baby potatoes and combines them with hard-boiled eggs (smoke 'em, if you've got 'em) and a tangy potato salad sauce featuring mayo, mustard, seasonings, and apple cider vinegar.
This classic potato salad recipe is simple, and my favorite version of the ever-popular salad made from potatoes!
This smoked macaroni and cheese has smoked cheese in it, and is finished off on your wood-fired grill! Just enough smoke to make it interesting.
Skip the pre-made coleslaw dressing and mix up a batch of your own! This coleslaw is tangy, sweet, and if you are smart it'll have a kick of horseradish in it too.
Homemade Smoked Baked Beans are a tangy, delicious side dish for any table! You're going to want to make extras because people are going to want to take home these leftovers!