One of my clearest memories of childhood summers is fruit and cream.  Whether it was the fresh blackberries we'd pick near my home in the Pacific Northwest, or the sweet peaches at Grandma's house in southern California, it was all made magical with a sprinkle of sugar and a splash of cold cream over the top.  I'd slurp it up with a spoon and then drink the sweet cream out of the bowl!
I was eating this recently when I started thinking about how much I also loved a good fruit crisp, but with our summer heat wave, there was no way I was turning on my oven to make that.  That's when I had the idea to combine these two favorite fruit desserts and skip the oven.  Enter Air Fryer Crumble Topping.  Basically you mix up a super quick and easy crumble AKA the "crisp" part of fruit crisp, but we cook it in just minutes in the air fryer so you don't heat up your house.  Pile that golden delicious crumble over fresh fruit and cream and oh my gosh.  The best of both worlds! This crumble would also be delicious over ice cream, sprinkled over a cream pie or cheesecake, or eaten with a spoon- no judgement.
Ingredient Notes
Fruit – You can use any fresh fruit that you would enjoy eating drizzled in cream!  Favorites are peaches, nectarines, blackberries, raspberries, and strawberries.
Sugar – I think most fruit is enhanced by just a little sprinkle of sugar, but this is just preference.  You can use regular granulated sugar, or a little brown sugar for warmth, or your favorite sugar replacement.
Cream – I prefer cream but half and half would also be good.
Instructions
Combine some brown sugar, flour, cinnamon, oats, pinch of salt and chopped butter into a bowl.
Use clean hands to lightly turn into crumble with butter pieces still visible.
Remove tray from air fryer and place mixture directly into cooking area.  Spread out evenly and bake until golden, stirring once in the middle.
Let mixture cool until just warm, or completely cool.
Toss desired fresh fruit with a little sugar and drizzle cream on top.6.  Sprinkle on crumb topping. It can be added warm or completely cooled.  It's also great over ice cream!
Once you try this out, you will be amazed at how easy and delicious it is and you'll make it all year long!  The combination of the fresh fruit and cold cream, with the buttery-crisp topping is out of this world.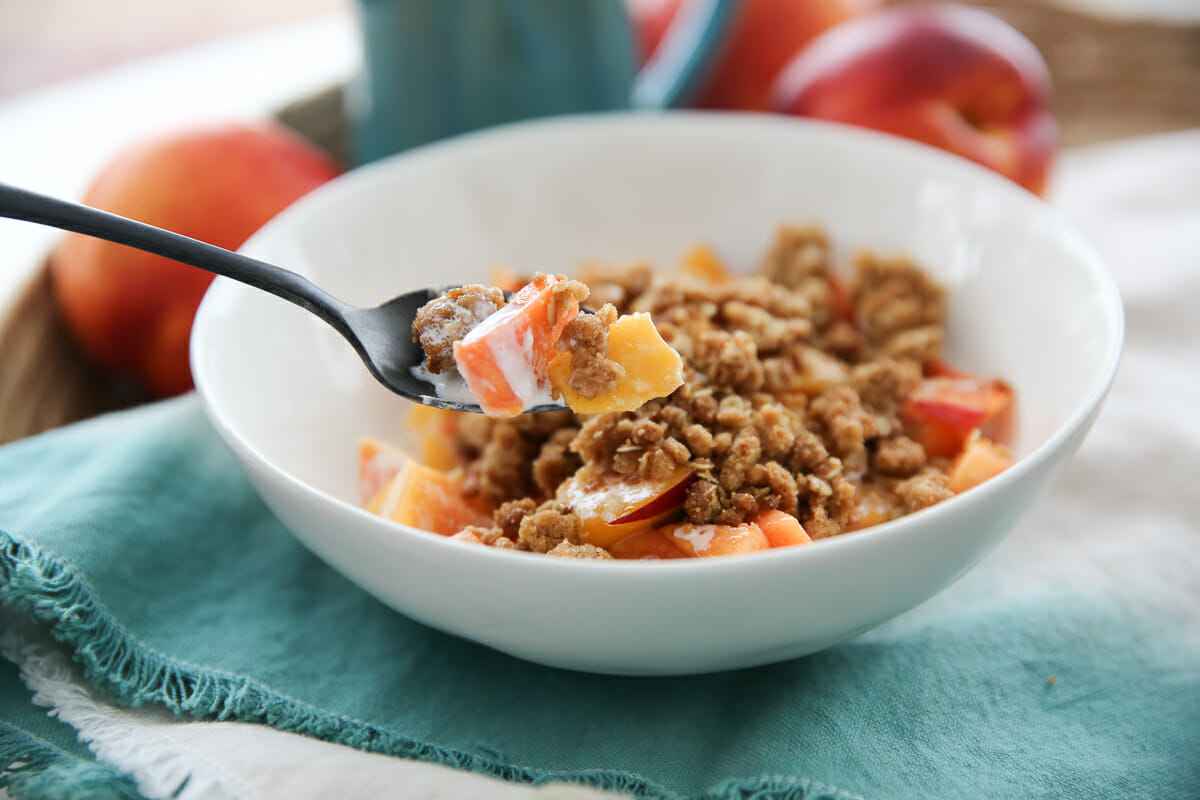 If you try it out, let me know how it goes!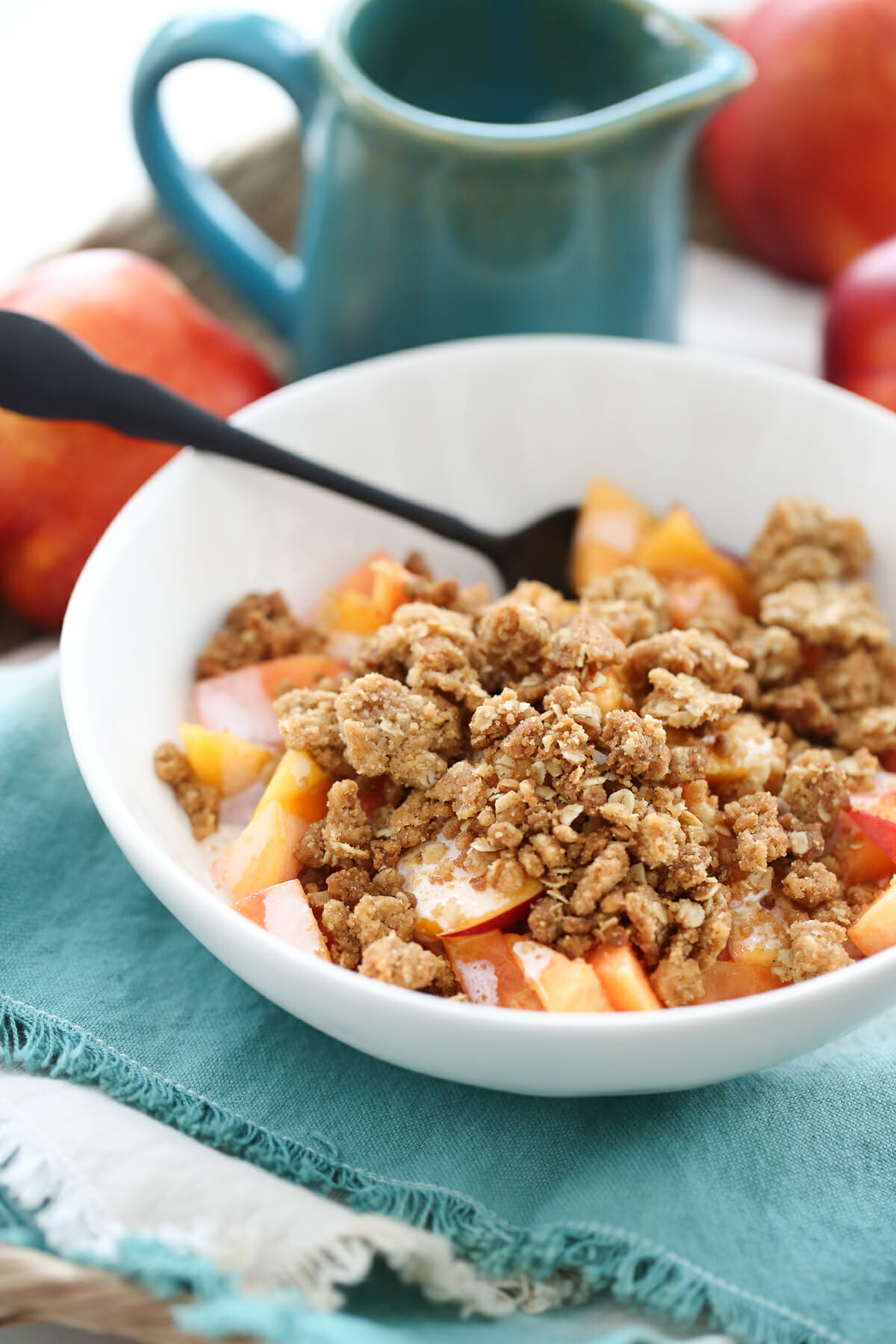 FAQ's
Can you make this ahead of time?
You bet!  You can combine the crumb mixture and keep in the fridge until you're ready to cook.  You could also bake it completely and let cool and store until ready to use.
How do you store leftovers?
Cool completely and then store in an airtight container at room temperature.
I don't have an air fryer, can I make this another way? Sure.  Place crumb mixture on a baking sheet lined with parchment paper.  Bake in a preheated 350 degree oven until golden and toasted.  OR place in a skillet (cast iron would be great) and gently toast, stirring occasionally, over low/medium-ish heat until golden brown.
Print
---
Description
Skip the heat of the oven and whip up this crumb topping in your air fryer to pile high over fresh fruit and cream
---
3/4 cup all purpose flour
1/2 cup lightly packed brown sugar
1/2 teaspoon ground cinnamon
1 pinch salt
3/4 cup oats (old fashioned recommended, but quick oats will work too!)
1 stick butter (1/2 cup, 4 oz)
---
Place flour, brown sugar, cinnamon and salt in a small bowl and mix together.  Stir in oats.
Chop butter in small pieces and add to bowl.
Use clean hands to gently press butter between your fingers, creating a crumble mixture.  Stop when you have small pieces of butter still visible.
Remove tray or basket from air fryer and place mixture directly in.
Cook for 5 minutes at 350, then lightly and gently toss mixture as to not break up the clumps forming.  Bake for another 5 minutes.  Mixture should be lightly golden brown and toasted. *NOTE:  keep in mind that all air fryers cook differently!  This is the timing that worked on mine.  Keep an eye on your crumble and take it out if it's getting too toasty. 
Let cool to just warm, or completely cool.
To serve, toss your favorite diced fresh fruit or berries in a little sugar and divide into bowls.  Drizzle fruit with cream and then pile crumb topping on top.
---